Prawn is a very tasty food item that is liked by almost everyone. There are many different types of recipes of prawn. It is also added with many other varieties recipes. Here in "Sweet and sour prawn" recipe, prawn being the primary ingredient, cooked with other 2-3 vegetables keeping the overall taste with a mild sweet and sour. Although most Indian recipes add hot spices and chilies, here slight variation is made for bringing a change into it.
Since prawn is very tasty, vegetables and mild sweet and sour taste add extra flavor to the item. It also looks gorgeous with the presence of colorful vegetables with prawns. You can serve it to your special guests if you can follow the process laid down below.
| | |
| --- | --- |
| Preparation time | 20 minutes |
| Cooking time | 20 minutes |
| Total time | 40 minutes |
| Servings | 8 |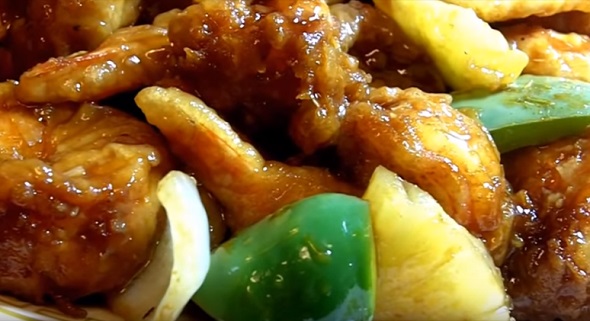 Ingredients for sweet and sour Prawn
500 gm medium size prawn
1 tablespoon cornflour
1 piece egg
150 gm cucumber
150 gm tomato
250 gm capsicum
2 tablespoon oil
½ cup onion sliced
½ cup tomato sauce
1 tablespoon garlic slices
2 teaspoons sugar
1 tablespoon lemon juice
250 ml chicken stock
1 teaspoon salt
Process
Step 1
Clean all prawn and remove the skin.
Step 2
Mix cornflour with egg. Apply the corn flour mixer with prawn.
Step 3
Heat oil in a non-stick frying pan on an induction cooktop or burner. I always prefer an induction cook-top. Fry all prawns until golden brown and keep aside in a paper-lined tray.
Step 4
Wash and cut all vegetables with a sharp knife into the same size. Add all vegetables to the oil and half fry and then keep aside. Add onion slice, garlic slice, tomato sauce, chicken stock, lemon juice, sugar, and salt in the pan. After blooming add all vegetables and prawns.
Step 5
When the water evaporates, turn off the burner or switch off the induction cooktop.
The tastiest and favorite prawn recipe is ready to serve. Serve it with fried rice, pulao or with white rice.
If you like my sweet and sour prawn recipe please share the recipe with your family and friends.
I like to cook and love to share my delicious food recipes with my beloved friends.
Recipe by Sultana
*Happy Cooking*