Last Updated on December 1, 2020 by Sultana Parvin
Benefits of Broccoli vegetable recipes
Broccoli is a green vegetable with a rich source of vitamin, minerals, and fiber. You can take good care of your body cells and tissues through eating this vegetable as its antioxidants do this function. Research from multiple studies found that it is a cruciferous type of vegetable, which may prevent cancer. It may also improve blood sugar level can control diabetes. Some research also found that broccoli is improving heart health preventing heart tissue damage. It is also a good source of vitamin C, which improves your healthy immune system in various ways. Broccoli is also given a medicinal effect to improve certain dental and oral diseases. Here 2 broccoli vegetable recipes are 'Broccoli rabe with olive stuffed chicken breast 'and'Broccoli casserole'. One is given by famous chef Karine and broccoli casserole is collected from Costco recipe book.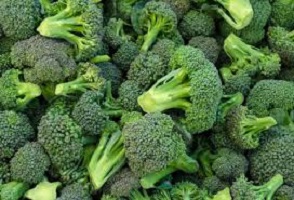 Broccoli rabe with olive stuffed chicken breast
Recipe by Karine Bakhoum
We can cook broccoli vegetable recipes in many ways. This recipe is tricky but healthy and delicious. Hope you will enjoy it.
| | |
| --- | --- |
| Preparation time | 15 minutes |
| Cooking time | 20 minutes |
| Total time | 35 minutes |
| Servings | 6 |
Ingredients for broccoli vegetable recipes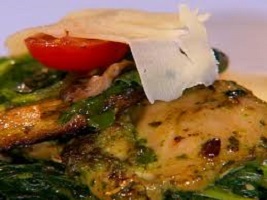 500 gm boneless chicken
3 tbsp Olive oil
5 Garlic clove
1 bunch Broccoli
1 tsp Black pepper
3 tbsp Olive
2 tbsp Raisins
1 tbsp Italian seasoning (basil, thyme, rosemary, oregano)
2 tbsp Flour
2 tbsp Chicken broth
1 tbsp Unsalted butter
½ cup white grape juice
Process for broccoli vegetable recipes
Step 1
Rinse chicken and pat dry with paper towels. Discard paper towels. Place chicken breasts on a cutting board and slice into the middle to create a large pocket, but don't cut through.
Step 2
In a sauté pan, heat 1-2 tablespoons olive over medium to low heat. Add garlic and cook for 1 minute, and then add broccoli rabe, stirring constantly. Cover and cook, stirring occasionally, for 2-3 minutes, or until the broccoli is soft and dark green. Season to taste with salt and pepper and a little bit of the Italian seasoning. Add olives and raisins and continue to simmer for 1 minute over medium heat. Transfer to a bowl and set aside.
Step 3
Dredge chicken lightly in flour. Stuff each chicken breast with approximately 2 tablespoons of the broccoli rabe mixture and close the fold carefully. Seasons both sides of chicken with salt and pepper and Italian seasoning.
Step 4
Add more olive oil to the saute pan. Place breast carefully in the pan and cook over medium-low to medium heat until golden, then carefully turn and cook the other side until golden.
Step 5
Cover the pan and cook about 4 minutes over low heat oruntil the internal temperature of the chicken reaches 170°F. Remove carefully from the pan and place on a serving platter.
Step 6
Add chicken broth to the pan, stirring and scraping the pan over medium heat.  Then add grape juice and continue to stir or whisk. After that add butter and stir until blended. Pour the sauce over the chicken and serve with sautéed potatoes or side of your choice.
Broccoli vegetable recipes: Broccoli Casserole
This broccoli vegetable recipes is an oven recipe. If you like cheese you will love this recipe.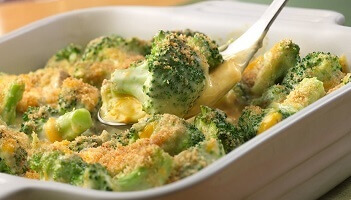 | | |
| --- | --- |
| Preparation time | 15 minutes |
| Cooking time | 35 minutes |
| Total time | 50 minutes |
| Servings | 8 |
Ingredients for broccoli vegetable recipes
1 can(10.75 oz) Cream of mushroom soup, pack or canned
½ cup fat free milk
1 tsp soy sauce
1/8 tsp ground black pepper
4 cups broccoli eat bite sized (lightly steamed)
3 tbsp fried onions
3/4 cup shredded cheddar
Pinch of grated nutmeg
Process for broccoli vegetable recipes
Step 1
Preheat oven to 350°F. Mix soup, soy sauce, pepper, broccoli, 2 tbsp onion, ½ cup cheese and nutmeg in casserole.
Step 2
Bake for 25 minutes or until heated through. Remove from the oven and sprinkle with remaining onions and cheese. Bake for 5 minutes or until the cheese has melted.
I love to cook and like to share my delicious food recipes with my beloved friends and family. If you like broccoli vegetable recipes please share the recipe with your family and friends.
*Happy cooking*