There is hardly any person, who does not like to eat cake. We find many types of cakes that are made differently in many parts of the world. Plain butter cake recipe or pound cake is one of the most common cake. As per the making process is concerned, it is one fast made cake. Its taste and softness are depended on your ingredients and making process. An electric oven is necessary for making this cake, but you can make it without an oven by using your burner or rice cooker or pressure cooker.
The process of making this cake is very easy. Its ingredients are also very common and available at home. You need only egg, flour, and oil. But here in this recipe, I used butter instead of oil. By using butter it becomes tasty, soft, and it gives better flavor.
You can serve this cake as a snack, with afternoon tea. This cake is good for children. They'd like it for its softness and flavor.
| | |
| --- | --- |
| Preparation time | 20  minutes |
| Cooking time | 45 minutes |
| Total time | 65 minutes |
| Servings | 8 |
Ingredients for butter cake recipe
200 gm butter
200 gm sugar
4 pcs (200 gm) egg
180 gm flour
20 gm cornflour
1 teaspoon baking powder
1 tablespoon milk powder
4/5 drops vanilla essence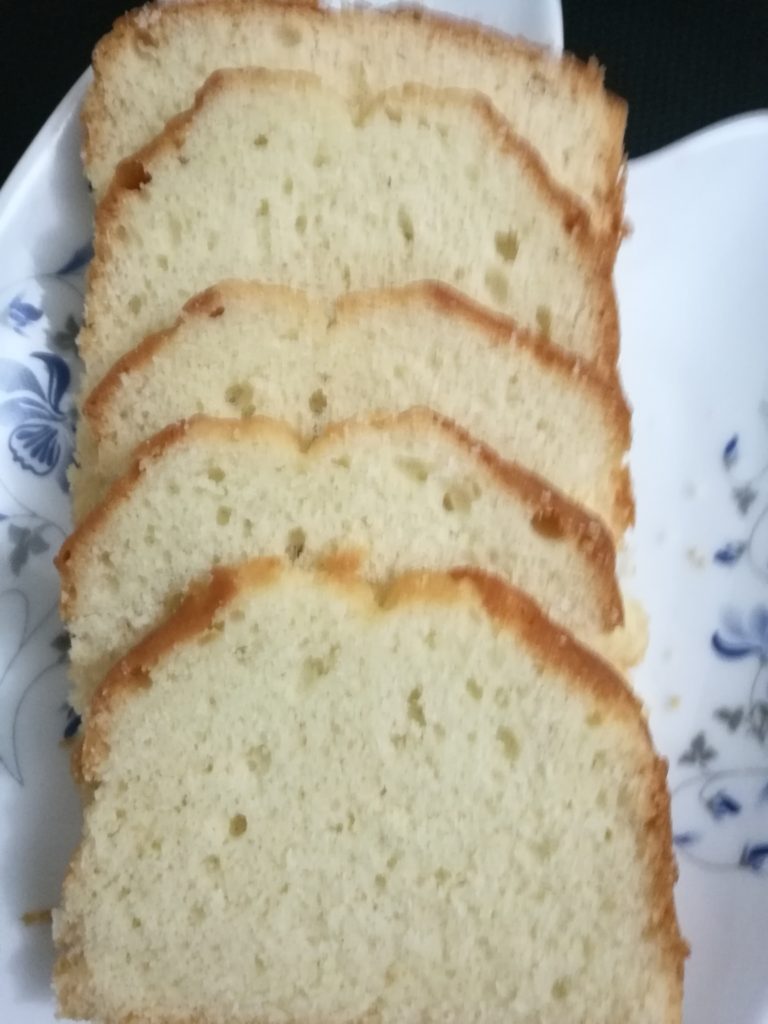 Process for butter cake
Step 1
Keep the butter at room temperature. Take the butter in a large bowl. Mix butter and sugar with a hand grinder or with a big long-handled spoon. Stir the mixture until like cream. Add egg one by one with the butter mixture. Add vanilla essence to the butter mixture and stir again gently.
Step 2
Mix white flour, corn flour, baking powder, and milk powder. Strain all ingredients with a strainer, so that those are mixed gently. Add the flour mixture slowly to the butter and egg mixture.
Step 3
Preheat the oven to 200°C for10 minutes. Take a long mold(Non-stick metallic box for making cake) and grease it with butter. If you want, you can use any kind of molds like round shape or rectangle shape. We usually used a long-shaped mold for the plain cake. Put the mixture in the mold up to 2/3rd of the mold should be filled.
Step 4
Put the mold in the oven; set the temperature to 180°C and bake for 40-45 minutes. After 35 minutes you will see that the box is filled and color of the cake is brown, pass a clean thin stick through the cake and check. If the stick comes out clean, then the baking is completed. When the liquid cake is pasted on the stick, the cake needs more time (about 5-10 minutes). Baking varies from oven to oven. So if you want to buy the best electric oven check Amazon for that.
Step 5
Take the cake out from the oven after baking is completed and keep for 10-15 minutes at room temperature for cooling. Slice the cake into about ½ inch thick pieces and serve it to your beloved family members. You will get the actual flavor if you eat the cake when still it is warm.
If you like my plain butter cake recipe please share the recipe with your family and friends. I love to cook and like to share delicious food recipes with my beloved friends.
By Sultana
* Happy Cooking*