We know Curd is a highly nutritious with a good amount of protein and calories. It has many health benefits including helping digestion system. In addition, we like to eat curd as it is tasty too. We also use curd to marinate some food item before cooking. It also makes our food tastier and we get a different taste as we use curd. Here I described two curd recipes: curd cutlet and boondi raita.
Curd recipes cutlet
Usually, we make cutlet with meat and vegetable. Here I used curd for making cutlet. This recipe is not so hard, it is easy and the taste is also good. It is made as a good snack. Hope all of you like this new cutlet.
| | |
| --- | --- |
| Preparation time | 10 minutes |
| Cooking time | 25 minutes |
| Total time | 35 minutes |
| Servings | 4 |
Ingredients for curd recipes cutlet
1 cup curd
2 pcs bread (100g), whole-wheat commercially prepared
1 egg
½ teaspoon ginger paste
3 tablespoon red onion, sliced
1 tablespoon cilantro, sliced
1 teaspoon cumin powder
½ tablespoon green chili, sliced
1 tablespoon oil
1 teaspoon salt
Process
Put curd in a clean cloth and hanging this for 10 minutes so that water can remove from the curd.
Crush bread and mix with curd. Add green chili, sliced onion, egg, sliced cilantro, cumin powder, and salt.
Mix all together and divide into 6 portions. Make cutlet from each portion.
Preheat the oven for 10 minutes at 200⁰c.
Brush the oil in grill rack and grill the cutlets for 20-25 minutes at 180⁰c. For better result use airfryer. Airfryer is very good for fry.
Curd cutlets are ready to eat.
Good for tea time snack.
             Nutrition Facts: Amount per serving
Calories
166
Total Fat
8.1g
Cholesterol
54mg
Sodium
950
Potassium
108mg
Total Carbohydrates
14.8g
Protein
10.3g
Curd recipes boondi raita
Boondi is used as a sweet dish. Here I used boondi as though a non-sweetened snack, yet it makes a yummy dish. I am sure you will make this recipe repeatedly.
| | |
| --- | --- |
| Preparation time | 10 minutes |
| Cooking time | 16 minutes |
| Total time | 26 minutes |
| Servings | 4 |
Ingredients for curd recipes boondi raita
1 cup Bengal gram powder
½ cup curd
1 teaspoon sugar
½ cup oil
1 teaspoon cumin seeds
3-4 pieces red chili
2 teaspoon salt
1 tablespoon mint, sliced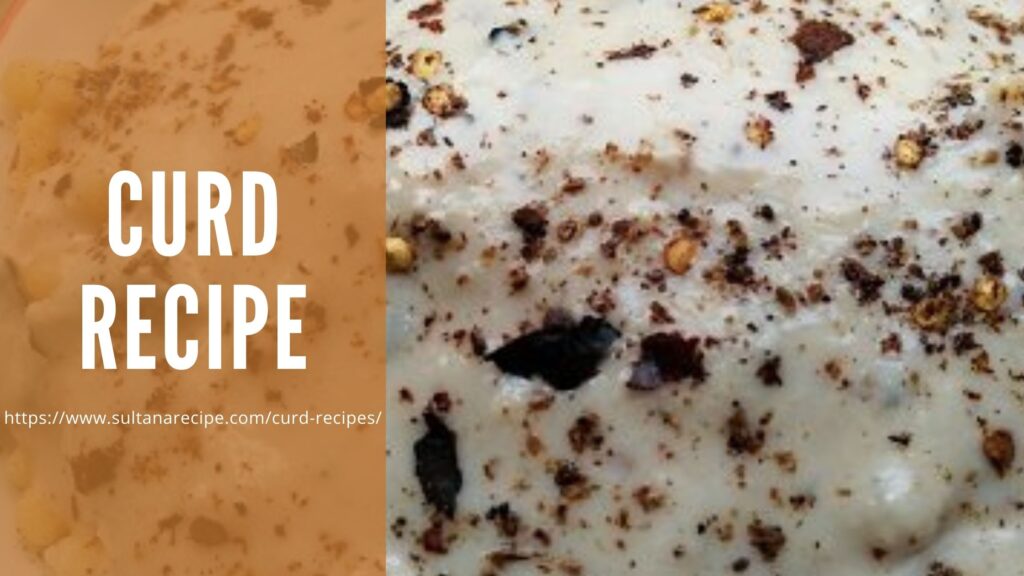 Process
Fry cumin seeds and dry red chili on a non-stick pan without oil until the smell comes out.
Keep aside for cooling. After cooling grind them.
Take 2 cups of water in a large deep bowl. Add salt to the water.
Add ½ cup water to the gram powder. Beat very well and make a batter.
Heat oil in a pan over medium heat.
When oil is enough heated put gram batter through a small hole colander.
Fry until the color is golden brown.
Take out boondi from oil and put into the salted water.
Strain the boondi from the water after 2-3 minutes.
Beat curd with sugar and salt.
Add half of grounded cumin seeds and dry red chili to the curd.
Put boondi in a serving dish and spread curd over the boondi.
Spread rest of grounded cumin seeds and chili over the curd.
Spread mint slice over the curd.
Curd recipes boondi raita is ready to serve.
Serve the boondi raita as a snack.
If you like my curd recipes please share my recipe with your family and friends.
I love to cook and like to share my delicious food recipes with my beloved friends.
             Nutrition Facts: Amount per serving
Calories
356
Total Fat
30.1g
Cholesterol
4mg
Sodium
1050
Potassium
188mg
Total Carbohydrates
14.8g
Protein
8.3g
*Happy Cooking *