Last Updated on September 25, 2022 by Sultana Parvin
Rice is the staple of India. The annual consumption of rice in India is approximately 100 million tonnes as of 2022. Also, consumption amount is increasing constantly. People are becoming aware of different types of rice that are more nutritious, like brown rice, Indrayani rice, black rice, etc. Among these, Indrayani rice is the one that is gaining the attention of people because of its high nutrition, various health benefits, and versatility.
Indrayani rice is mainly grown in various parts of Maharashtra. It is smaller in size when compared to other rice grown in India. It has a very different aroma of its own, which also aids in its distinctive flavor. The various health benefits of Indrayani rice are given below.
1. It is full of nutrients.
Indrayani rice is full of nutrients. It has so many nutrients like iron, niacin, calcium, fiber, and vitamin D, which are very crucial for a healthy body. Besides these, it also has thiamine and riboflavin. They are the forms of Vitamin B that our bodies are incapable of producing. These nutrients help with living a healthy and balanced life.
2. It is rich in fiber.
Indrayani rice is very rich in fiber content. Fibers are the essential nutrients that the body needs for wellness. Consuming rice and other foods with high fiber results in controlling cholesterol levels in the body. It also reduces heart-related problems and lowers the risks of heart disease. Fibers normalize bowel movement and maintain bowel health.
3. It is a high source of energy.
Indrayani rice has different forms of vitamin B like thiamine and riboflavin. Vitamin B is associated with increased energy levels in the body, forming red blood cells, stimulating the immune system, etc. It also helps in stabilizing mood swings and acts as a mood stabilizer.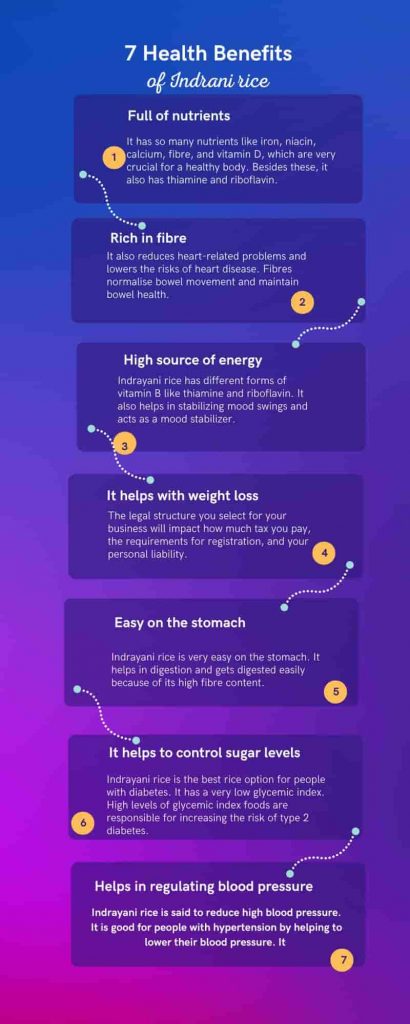 4. It helps with weight loss.
Indrayani rice helps in increasing the metabolism in the body. This results in supporting weight loss and maintaining the right healthy body weight. It is good for gut health and also helps in maintaining the health of the gut.
5. It is easy on the stomach.
Indrayani rice is very easy on the stomach. It helps in digestion and gets digested easily because of its high fiber content. So, it can also be given for feeding babies and kids. They can easily digest this rice. It also helps with bowel movements.
6. It helps to control sugar levels.
Indrayani rice is the best rice option for people with diabetes. It has a very low glycemic index. High levels of glycemic index foods are responsible for increasing the risk of type 2 diabetes.
7. It helps in regulating blood pressure.
Indrayani rice is said to reduce high blood pressure. It is good for people with hypertension by helping to lower their blood pressure. It has nutrients that are known to aid in the lowering of blood pressure. So, if consumed regularly, it can be very beneficial for people with high blood pressure.
So, these are the 7 health benefits of Indrayani rice. It is one of the few new varieties of Indian native rice variety. It is recently becoming popular because of the many nutritionists, health gurus, online platforms, etc. that are actively promoting it. They are also busting the myth that rice is not good for health and cannot be consumed daily. Because Indrayani rice can be consumed daily and is good for the overall health of the body.
If you also want to have these health benefits, then include Indrayani rice in your daily diet. You will definitely see changes in your energy level and overall health if you consume it on a regular basis.
Where to purchase Indrayani rice
You can purchase Indrayani rice online. If you are in Bangalore, then the best choice is to order from Healthy Buddha. It is an organic online food store based in Bangalore. It offers no contact delivery at your doorsteps.
About Healthy Buddha
Healthy Buddha is an organic food store in Bangalore. It delivers fresh and organic groceries to your doorstep. It is dedicated to the goal of promoting a healthy lifestyle. At Healthy Buddha, they grow their own products and source from selected organic farmers only. You can also watch videos of their farm on their website. They are also organically certified by NPOP.
They also provide lots of tasty recipes that are easy to prepare and healthy to eat.
Other Products on Healthy Buddha
Other than Indrayani rice, Healthy Buddha delivers a wide variety of fruits and vegetables, groceries including rice, cereals, pulses, oils, herbs, flours, spices, etc., baking items, and a whole lot of other things.
So, if you want to do your grocery online in Bangalore without any hassle and fresh from the farm, then your one-stop solution is Healthy Buddha.