The taste of chicken and its ready availability provide a scope of cooking it in different varieties. Chicken Tandoori is a grilled and burnt/smoky form of the chicken recipe, which attracts many food lovers to make the crowd in the Kabab restaurants. Many Bengali, Indian, and Pakistani families or friends make dine out in the evening for visiting those special shops that prepare and sell tandoori. It makes a healthy diet with the taste of burnt meat with naan-roti, or paratha, or bread.
Chicken tandoori is a rarely practiced recipe at home, because of the requirement of the tandoori burner. But, new a day's small/family size tandoor-barbecue burners are available in the market that solves your cooking problem. The alternative method of tandoori is to grill the chickens using your electric oven. In this case, you need to turn the pieces of chicken laid in the grill rack.
Cooking tanduri is slightly different than masala or barbecued chicken. Instead of cooking in the pan the item is cooked on the smoky flame of the special type burner, which uses charcoal as burning material. However, the pieces of chicken are to be well marinated prior to cooking.
| | |
| --- | --- |
| Preparation time | 6 hours 20 minutes |
| Cooking time | 30 minutes |
| Total time | 6 hours 50 minutes |
| Servings | 4 |
Ingre

dients for chicken tandoori
1 chicken (medium size)
1 cup yogurt
½ cup mustard oil
1 pinch turmeric powder
1 tablespoon papaya paste
½ teaspoon chili powder
1 teaspoon ginger paste
1 teaspoon garlic paste
1 tablespoon lemon juice
4 teaspoons tomato sauce
1 teaspoon hot spice powder
1 teaspoon salt
1 tablespoon tandoori masala
1/2 teaspoon sugar
1 pinch orange food color
1 tablespoon clarified butter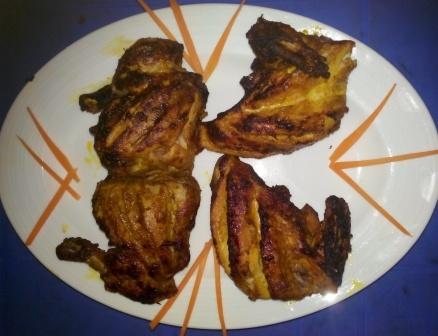 Process
Cut the whole chicken into 4 pieces by 2 cross-sections at the center.
Clean chicken pieces and mix 1 tsp lemon juice and salt to the chicken pieces. Rinse and drain very well.
Mix yogurt, lemon juice, ginger paste, garlic paste, chili powder, turmeric powder, papaya paste, tomato sauce, oil, salt, sugar, tandoori masala and food color in a bowl.
Add chicken pieces to the masala mixture.
Marinate the chicken pieces for 6 hours in the refrigerator.
If you are using a tandoori burner, pass an iron stick, called 'sheekh' through the marinated chicken piece. You can use one seekh for 2 pieces. Cook on the hot flame of charcoal. Turn to the opposite side for evenly cooking. Cook for 15-20 minutes, or until some of the outer surfaces of the chicken pieces are burnt.
If you are using the electric oven, put the marinated chicken pieces on the grill rack and cook for 30 minutes at 200⁰C. or until the color of the chicken pieces becomes golden brown and oil comes up.
Open pieces of chicken from the seekh and brush the clarified butter (ghee) over the chicken pieces.
Take the chicken tandoori in the serving dish.
Decorate with any kind of vegetable, lettuce, carrot, tomato etc.
Serve chicken tandoori in hot condition with naan-roti or paratha.
If you like my chicken tandoori recipe please share the recipe with your family and friends. I love to cook and like to share my delicious food recipes with my beloved friends.
Recipe by Sultana
*Happy Cooking*