Last Updated on December 14, 2022 by Sultana Parvin
Recipe by Sultana
The Kacchi Biryani Recipe was a tremendous achievement at home. This dish will definitely figure in my best 5 formulas from our first round the world. It is genuinely simple to make and incorporates all that you have to make it a rich and nutritious dish (meat, dried natural products, rice). To make again at the earliest opportunity!
Ingredients for kacchi biryani
2 kg mutton (the meat should not be from very young or too aged goat)
2 cups ghee
1 kg basmati rice (you can use miniature rice as well, but basmati rice will give a special flavor and look longer than usual size of rice)
2 cups yogurt
2 cups milk
1 cup cooking oil
2 tsp hot spices powder
2 tsp cumin powder
8-10 potatoes medium size (about 500 gm)
2 tsp red chili powder
2 cups chopped onion
6 sticks cinnamon
8 pieces cardamoms
6 pieces cloves
1 tsp mace powder
2 tbsp garlic paste
2 tbsp ginger paste
8 pieces bay leaves
1 tsp black pepper
1 tsp nutmeg powder
10 pieces Alu Bokhara (prune)
100 gm nut
1 tbsp kewra water
2 tbsp sugar
2 tbsp salt
Process: https://www.sultanarecipe.com/kacchi-biryani-recipe/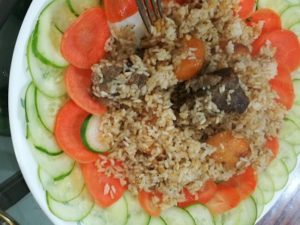 You can cook kacchi biryani in a slow cooker.
I love to cook and like to share my delicious recipes with my beloved friends.
If you like my recipe please share the recipe with your beloved friends.
*Happy Cooking*