A Paleo diet is a plan based on foods similar to what they have eaten during the ancient era which dates from around 2.5 million to 10.000 years ago. Paleo diet typically includes lean meats, fish, fruits, vegetables, nuts, and seeds -foods hunting and gathering could get that. In this article, you will know 5 Paleo breakfast recipes that are very healthy.
Why Paleo Breakfast Recipes Should Include of Your Healthy Meal Plan?
In modern days people take so many oily foods, sugar, fat, and processed food that's why many people suffer health disease. How can people get rid of these problems? Avoid these modern foods and take healthy food which will include Healthy breakfast, meal, and dinner.
5 Paleo Recipes Are Given Below
Paleo Breakfast Muffins
These almond coconut muffins Healthy Breakfast are 100% delicious. Paleo diet follows persons who have no options without fall in love with this Healthy Breakfast.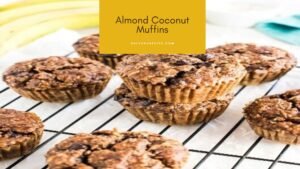 | | |
| --- | --- |
| Preparation Time | 10 minutes |
| Cooking Time | 30 minutes |
| Total time | 40 minutes |
| Servings | 4 |
Ingredients
1 tablespoon coconut oil
2 bananas
2 eggs
½ cup almond flour
1 tablespoon vanilla essence
1 teaspoon baking soda
1/2 teaspoon ground hot spice
½ teaspoon sea salt
½ cup shredded, coconut
½ cup walnuts, raisins and Paleo chocolate chips (divided)
Process
Step 1
Preheat the electric oven at 200 c for 5 minutes. Take a muffin pan and spread butter with brush. Put cupcake liners. If coconut oil freezes or become solid melt the coconut oil in a small pan with medium heat.
Step 2
Mashed the bananas and keep it aside. Add all ingredients (coconut oil, mashed bananas, eggs, almond flour, vanilla, cinnamon, baking soda, ground-all spice, ginger, cloves, and sea salt) in a bowl. Beat the ingredients with an electric beater. If you don't have a beater, you can use a hand whisk. Add shredded coconut, walnuts, raisins, and Paleo chocolate chips to the flour mixer. Mix the mixture gently.
Step 3
Pour the batter into the muffin pan and fill up two-third of the pan. Bake the pan at 180 c for 25-30 minutes. Let it cool for 5 minutes. After cooling take out the muffin from the pan.
Almond Coconut Muffins is ready to serve.
Healthy Breakfast
This Healthy Breakfast rapidly becomes a new Paleo diet recipe in our house. It's the delicious diet recipe that fills you upright to power through your day.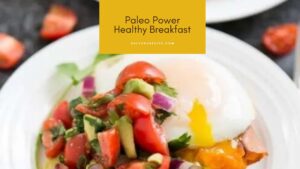 | | |
| --- | --- |
| Preparation time | 15 minutes |
| Cooking time | 30 minutes |
| Total time | 45 minutes |
| Servings | 4 |
Ingredients
500 gm sweet potatoes
4 eggs
1 tablespoon olive oil or avocado oil
½ teaspoon sea salt
½ teaspoon pepper
1 tablespoon tomato avocado salsa
1 tablespoon minced red onion
2 tablespoons roughly chopped fresh cilantro
1 tablespoon minced jalapeno
2 tablespoons lime juice
½ cup cherry tomatoes quartered
½ cup ripe avocado, peeled, cubed
Process
Step 1
Preheat the oven at 200 c for 5 minutes. Put a baking sheet with parchment paper.
Step 2
Thoroughly scrub the sweet potatoes and cut off both ends. Cut the potatoes into half lengthwise and place potato pieces on the parchment paper.
Step 3
Roast the potato in the oven at 180 c for 20-25 minutes.
Step 4
While the sweet potatoes are cooking in between make the salsa by combining all the prepped ingredients. Keep the salsa aside.
Step 5
After the potatoes cooking well, turn off the oven and keep the potatoes warm while you cook the eggs.
Step 6
Heat a medium-sized skillet over medium heat. Add oil for cooking egg. Add the egg to the pan at a time and season with salt and paper. Cover with a lid and cook for 2-3 minutes.
Step 7
Place the eggs over the warm sweet potatoes and serve with fresh salsa.
Paleo Breakfast Heaps
Paleo Breakfast heaps are the breakfast of titleholder. The cooking process is so simple and easy and it will keep you full long into lunchtime.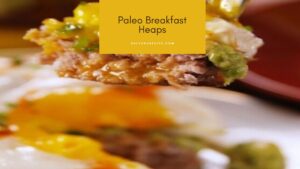 | | |
| --- | --- |
| Preparation time | 10 minutes |
| Cooking time | 20 minutes |
| Total time | 30 minutes |
| Servings | 2 |
Ingredients
2 breakfast sausage patties
1/2 avocado, mashed
½ teaspoon salt
½ teaspoon freshly ground black pepper
2 large eggs
Cooking spray
Spring onion (garnish)
Hot sauce, option
Process
Step 1
Cook breakfast sausage according to the direction which is given in the box. Then put mashed avocado onto breakfast sausage and season with salt and black pepper.
Step 2
Heat a skillet over medium heat. Sprinkle the cooking spray. Place mason jar lid or round shape cookie cutter in the center of the skillet and place an egg inside. Add salt and pepper and cook until egg's whites set. After setting the egg, whites remove the lid or cookie cutter.
Step 3
Place egg on top of mashed avocado. Garnish with chopped spring onion. Serve with your favorite hot sauce.
Paleo diet recipes Breakfast: Sandwich
Do you ever get completely and utterly bored on the Paleo diet? This sandwich will include Healthy Breakfast. It's very easy to make.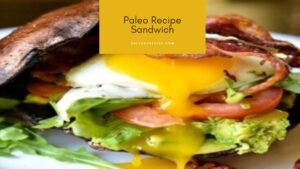 | | |
| --- | --- |
| Preparation time | 10 minutes |
| Cooking time | 25 minutes |
| Total time | 35 minutes |
| Servings | 2 |
Ingredients
4 mushroom caps
4 slices beef cuts
2 eggs
1-piece tomato, sliced
1-piece avocado, mashed coarsely with fork
1 large handful arugula
1-2 tablespoons olive oil
½ teaspoon salt
½ teaspoon pepper
Process
Step 1
Removed caps mushroom's stem, clean and dry with a damp cloth. Preheat your oven at 200 c for 5 minutes. Place mushroom caps on parchment -lined baking sheet. Sprinkle with olive oil, salt, and pepper to taste. Bake in oven for 6 minutes per side.
Step 2
Fry beef cuts slices in a skillet over medium heat until crispy. Remove and place beef cuts slices on a paper towel-lined plate so that extra oil can absorb. Greased skillet and add 2 eggs to the skillet, cook over medium-low heat until egg white set and yolks thickened.
Step 3
Place mushroom caps, layer avocado, tomato slice, arugula, fried egg, and beef cuts. Top with mushroom caps. Your healthy Paleo breakfast sandwich is ready to serve.
The Paleo egg wraps are the perfect way to start the day if you're feeling like eating a nice cooked Healthy Breakfast. One of the best things about this recipe is very easy to prepare and cook quickly. It also tastes amazing.
Healthy Breakfast Egg Wraps
| | |
| --- | --- |
| Preparation time | 5 minutes |
| Cooking time | 5 minutes |
| Total time | 10 minutes |
| Serving | 4 |
Ingredients
4 organic large eggs
1 tablespoon coconut oil or butter
4 tablespoons breakfast sausage
1 teaspoon herbs
2 tablespoons avocado, mashed
Extras-parchment paper
Process
Step 1
Heat a medium nonstick skillet on medium high heat. Add 1 teaspoon oil.
Step 2
Whisk one egg in a small bowl then gently pour into the skillet. Swirl the skillet to evenly spread the egg out into a thin layer. Once the edges turn golden brown or cook until the egg fully cooked.
Step 3
Remove each egg wrap and take on a plate to cool. Keep aside.
Step 4
Repeat with as many eggs as you want (in this case 4).
Step 5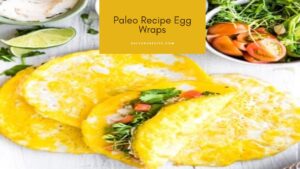 Cook breakfast sausage as per direction. Mixed herbs, sausage, mashed avocado, and herbs altogether. Keep the filling aside. Fill each egg wrap with your desired fillings, then roll them up tightly and wrap them in parchment paper. For keeping fresh the wrap, you can brush a little oil onto the inside of the parchment paper. If you like my 5 best and easy Paleo breakfast recipes please share these recipes with your family and friends.