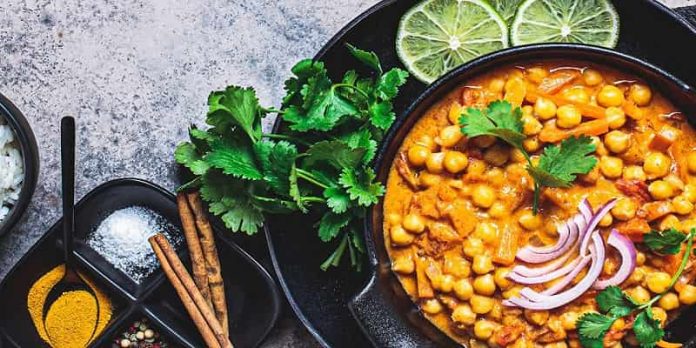 Last Updated on January 24, 2023 by Sultana Parvin
Kalonji seeds and chickpea curry make a delicious and nutritious meal. The seeds add a unique flavor to the curry, and the chickpeas provide an excellent source of protein and fiber. This dish is easy to make and can be enjoyed by everyone.
Kalonji, also known as nigella, black seed, and black cumin, is an annual flowering plant in the family Ranunculaceae, native to a large region of the eastern Mediterranean, northern Africa, the Indian subcontinent, and western Asia. The plant grows to 20–60 cm (8–24 in) tall, with finely divided, linear leaves. The flowers are delicate and usually colored pale blue and white, with five to ten petals. The fruit is a large and inflated capsule composed of three to seven united follicles, each containing numerous seeds.
The seeds of kalonji are used as a spice in Indian and Middle Eastern cuisine. The black seeds taste like a combination of onions, black pepper, and oregano. They are generally used as a flavoring agent in curry powders, pastes, and spice mixes, such as garam masala and berbere. The oil made from kalonji is used for hair care and to treat skin disorders.
 Chickpea curry is a popular dish made with chickpeas, a type of legume, as the main ingredient. Chickpeas are high in protein and fibre, and are a good source of vitamins and minerals. Chickpea curry is usually made with various spices, such as cumin, coriander, turmeric, and chili pepper. It can be served with rice or bread and is often garnished with fresh cilantro leaves.
Ingredients for Kalonji Seed and Chickpea Curry
1 cup chickpeas, soaked overnight
1 onion, chopped
1 tomato, chopped
1 tablespoon kalonji seeds
1 teaspoon cumin seeds
1 teaspoon coriander seeds
1 teaspoon turmeric powder
1 teaspoon chili powder
Salt to taste
1 tablespoon oil
2 cups water
Fresh cilantro leaves for garnish
How to Cook
Step 1
In a pressure cooker, cook the soaked chickpeas with enough water for about 3 whistles.
Step 2
In a pan, heat oil and add the kalonji seeds. Add the cumin seeds, coriander seeds, and turmeric powder.
Step 3
Add the chopped onion and fry till it is translucent. Add the chopped tomato and fry for a few more minutes.
Step 4
Add the cooked chickpeas and 2 cups of water. Bring to a boil and simmer for 10 minutes. Add salt to taste and garnish with fresh cilantro leaves.
Step 5
Serve hot with rice or bread. Enjoy this delicious and healthy kalonji seeds and chickpea curry!