Last Updated on December 27, 2022 by Sultana Parvin
Kalonji is a small, black seed that comes from the Nigella sativa plant. The seeds are used in many cuisines, including Indian and Middle Eastern dishes. Kalonji has a pungent, slightly bitter taste and is often used as a flavoring or spice. Recipe with Nigella seeds list is huge. Kalonji seed and Eggplant curry are one of them.
When used in curry, kalonji seeds are usually dry-roasted to bring out their flavor. They can then be added to the dish whole or ground. Kalonji is often used in eggplant curry, where it pairs well with the rich, creamy taste of the eggplant.
 Eggplant curry is a popular dish in many parts of India. It is typically made with a gravy base and can be made with or without meat. The eggplant is cooked in gravy until it is soft and rich in flavor. Kalonji seeds are added to the dish for flavor and spice.
This curry is best served with rice or naan bread. It can be made as mild or spicy as you like, depending on your preference. For a richer dish, you can add some cream or ghee to the curry.
If you're looking for a flavorful and hearty curry, try Kalonji Seed and Eggplant Curry. The pungent flavor of the kalonji seeds pairs well with the rich, creamy eggplant, and the dish can be made as mild or spicy as you like. Serve with rice or naan bread for a complete meal.
What Ingredients are needed for Kalonji Seeds & eggplant curry
1 tablespoon kalonji seeds
1 medium eggplant, diced
1 tablespoon olive oil
1 onion, diced
1 teaspoon ground ginger
1 teaspoon ground cumin
1 teaspoon ground coriander
1/2 teaspoon cayenne pepper
1 (15-ounce) can of diced tomatoes
1 cup water
1 tablespoon chopped fresh cilantro
Salt and pepper to taste
How to Cook Eggplant Curry with Nigella Seed
1. In a small pan, toast kalonji seeds over medium heat for 1-2 minutes until fragrant.
2. In a large skillet or wok, heat olive oil over medium-high heat.
3. Add onion, eggplant, ginger, cumin, coriander, and cayenne pepper. Stir-fry for 4-5 minutes until eggplant is slightly softened.
4. Add canned tomatoes and water. Bring to a boil.
5. Reduce heat to low and simmer for 10-15 minutes until eggplant is cooked through.
6. Stir in cilantro and salt and pepper to taste. Serve over steamed rice.
Enjoy this delicious and healthy Kalonji Seed and Eggplant Curry!
Nigella Seed & Spice Mix
Kalonji, also known as nigella or black seed, is a small black seed that comes from a flowering plant in the Ranunculus family. The seeds are used as a spice in many cuisines, including Indian, Middle Eastern, and North African. Kalonji has a bitter, pungent flavor and is often used in pickles, curries, and breads.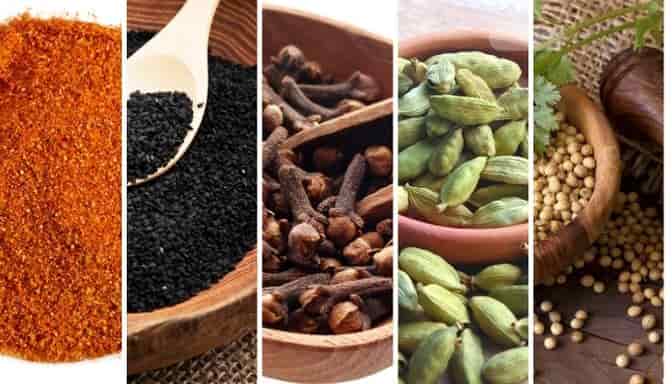 The Kalonji plant is native to South and Southeast Asia. The seeds are harvested from the plant and then dried in the sun. Once dry, the seeds can be ground into a powder or used whole.
Kalonji is a key ingredient in many Indian dishes, such as curry, daal, and bread. It is also used in Middle Eastern and North African cuisine, such as in the dish kabsa.
Kalonji has many health benefits. The seeds are a rich source of antioxidants and have anti-inflammatory, antibacterial, and antifungal properties. Kalonji is also known to boost immunity, lower cholesterol, and regulate blood sugar levels.
So, next time you're in the spice aisle, be sure to pick up some kalonji seeds!
Ingredients for Kaligira Spice Mixer:
1 tablespoon kalonji seeds
1 teaspoon fennel seeds
1 teaspoon cumin seeds
1 teaspoon coriander seeds
1 teaspoon black peppercorns
1/2 teaspoon cloves
1/2 teaspoon cardamom seeds
1/2 teaspoon dried chili flakes
How to Prepare Balck Cumin Seeds & spice mixer
1. Combine all ingredients in a spice grinder or mortar and pestle and grind into a fine powder.
2. Store in an airtight container in a cool, dark place.
3. Use as a seasoning for meats, vegetables, or curries.
4. Kalonji seeds can also be used as a natural remedy for digestive issues, headaches, and colds.
5. To make a kalonji seed infusion, steep 1 teaspoon of the spice mix in 1 cup of boiling water for 10 minutes. Strain and drink as needed.
Enjoy recipe with nigella seeds and get appreciation from your family and friends.
*Happy Cooking*