Jali kabab is a type of meat patties prepared with minced beef. "Jali" means net. This kabab's outer texture looks like a net. That's why this kabab is named as jail kabab. Usually, most of the kababs are cooked with direct heat, either in open burner or grilled in the oven. But, jali kabab is the one exception as it is cooked with oil in a pan in the traditional process.
The minced beef in the jali kabab is mixed with its ingredients and then covered with whisked egg before frying on oil. In this process, the taste of the kabab multiplies than just roasting the beef. This kabab is usually served as a snack. But it goes well with pulao and biryani during formal dinner or lunch.
Although for many people making jail kabab is a very difficult task, but sultana's recipe offers you an easy and simple recipe as the formula of preparing and cooking of jali kabab recipe at home. You just need to have minced beef and some common ingredients. Rest is just to follow the process in this recipe for your yummy jail kabab.
| | |
| --- | --- |
| Preparation time | 40 minutes |
| Cooking time | 20 minutes |
| Total time | 60 minutes |
| servings | 10 |
Ingredients for jali kabab
250 gm minced beef
1 tablespoon onion, finely chopped
1 teaspoon coriander leaves, sliced
½ teaspoon hot spice powder
1 teaspoon mint, sliced
1 teaspoon tomato sauce
½ teaspoon ginger paste
1 tablespoon yogurt
1 teaspoon green chili sliced
½ teaspoon garlic paste
1 teaspoon papaya paste
50 gm bread
1 pinch nutmeg powder
1 pinch mace powder
½ cup breadcrumb
1 teaspoon salt
1 egg
2 teaspoon oil for mixture
½ teaspoon tasting salt
1 cup oil for fry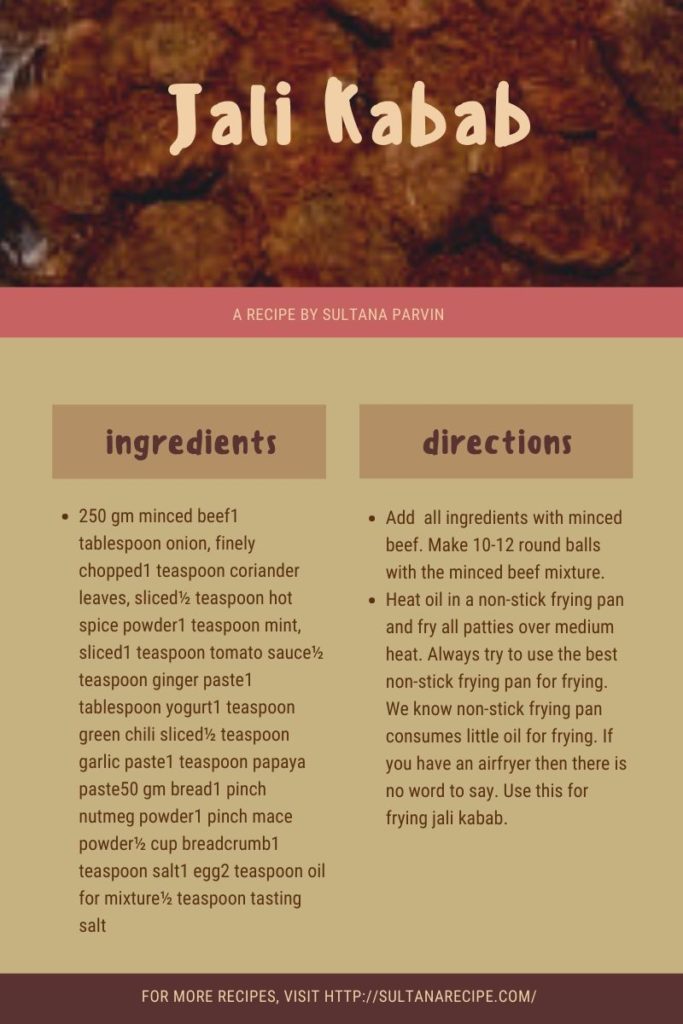 Process for Kabab Recipe
Add sliced onion, ginger paste, garlic paste, tomato sauce, yogurt, chili slice, coriander slice, mint slice, nutmeg powder, mace powder, papaya paste, hot spice powder, salt, and tasting salt with minced beef.
Moist the bread slice with a little water and then squeeze to release all water from the bread.
Add oil and bread with minced beef mixture.
Keep the mixture in the freezer with cover for 30 minutes.
Make 10-12 round balls with the minced beef mixture. Gently press the balls with fingers and make similar to patties.
Take bread crumbs on a flat plate. Roll the kababs in breadcrumbs to cover it completely.
Whisk the egg.
Dip all patties into the whisked egg.
Heat oil in a non-stick frying pan and fry all patties over medium heat. Always try to use the best non-stick frying pan for frying. We know non-stick frying pan consumes little oil for frying. If you have an airfryer then there is no word to say. Use this for frying jali kabab.
Sprinkle a little bit of whisked egg over the patties into the oil, so that it can make some net, which is the specialty of this kabab.
When the color is golden, strain out of the oil.
Keep on a paper-lined plate. Your favorite jali kabab is ready to eat.
Serve with salad, sauce, or pulao or biryani.
This kabab also matches well with Kacchi biryani.
If you like my jail kabab recipe please share the recipe with your family and friends.
I love to cook and like to share my delicious food recipes with my beloved friends.
*Happy Cooking*