Last Updated on December 1, 2020 by Sultana Parvin
Chicken is one of the most popular meat items, which is liked by almost everyone. On your busy day, you can make a low fat chicken recipe with tortillas easily. The rolls of tortillas with a mixture of chicken and other ingredients make delicious food for your breakfast and lunch. Here I described two low fat chicken recipes.  Both recipes are good as a school Tiffin.
Low fat chicken recipes with tortilla
| | |
| --- | --- |
| Preparation time | 20 minutes |
| Cooking time | 15 minutes |
| Total time | 35 minutes |
| servings | 2 |
Ingredients for low fat chicken recipes with tortilla
1/2 cup chicken breast (half cooked)
½ cup lettuce, sliced
1 tablespoon green bell, chopped
1 tablespoon tomatoes, chopped
2 flour tortillas (6 inches)
1 tablespoon fat-free sour cream
½ tablespoon cheese, chopped
½ teaspoon salt
For tortilla
¼ cup tortilla
1 pinch salt
1 teaspoon oil
Water as much as you need
Process for tortilla
Mix oil and salt to the flour.
Add Lukewarm water to the flour mixture.
Make two tortillas with floured board and roller approximately 6-inch size.
Heat a non-stick pan over medium heat.
Bake the tortilla until both sides baked properly.
Keep it aside.
Process
Boil the chicken breast for 10 minutes.
Cut chicken into your desired size.
Cut green bell (capsicum), tomato, and lettuce into julienne size with a  multi grater.
Mix chicken, green bell, tomatoes, lettuce, and salt all together in a ball.
Add half of sour cream and cheese to the chicken and vegetable mixture.
Set aside the mixture.
Place tortilla in a plate.
Put the chicken mixture on the tortilla.
Roll the tortilla and put a toothpick so that the tortilla cannot open.
Garnish it with sour cream and cheese.
Low fat chicken recipe with a tortilla is ready to serve.
Serve the tortilla with sauce or mint chutney.
             Nutrition Facts: Amount per serving
Calories
113
Total Fat
3.1g
Cholesterol
64mg
Sodium
68mg
Potassium
178mg
Total Carbohydrates
6.8g
Protein
13.6g
Vitamin A
5%
Calcium
4%
Vitamin C
3%
Iron
6%
Notes: You can add carrot, cucumber or cabbage etc as available at home.
Gluten Free: This recipe is fully Gluten free.
Lactose-Free: To make it lactose-free, avoid the use of cheese.
Low-fat chicken recipes Chicken Saute
| | |
| --- | --- |
| Preparation time | 60 minutes |
| Cooking time | 15 minutes |
| Total time | 1 hour 15 minutes |
| servings | 3 |
Ingredients 
1 cup chicken, boneless, cut into cube size
1 tablespoon soy sauce
2 tablespoon lemon juice
1 teaspoon ginger paste
½ teaspoon cumin powder
½ teaspoon red chili powder
2 tablespoon tomato sauce
1 tablespoon clarified butter
1 egg white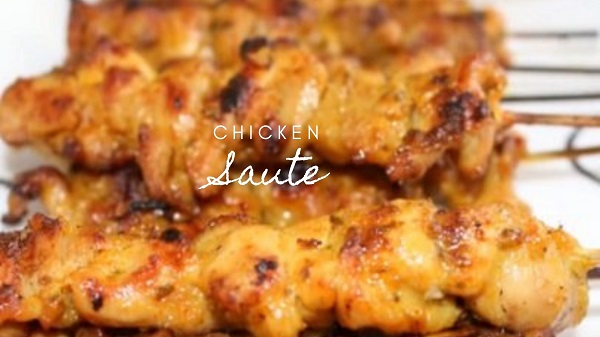 Process
Mix all ingredients and marinate for 1 hour.
Arrange 4-5 chicken pieces on a wooden stick passing the stick through the chicken.
Cook it for 5 minutes in a microwave oven. Then grill for 10 minutes in an electric oven or grill burner.
Chicken sauté is ready to eat.
Serve the low fat chicken recipes chicken sauté with a fresh salad or any kind of salad.
If you like my low-fat chicken recipes please share this recipe with your family and friends.
I love to cook and like to share my delicious food recipes with my beloved friends.
             Nutrition Facts: Amount per serving
Calories
123
Total Fat
6.1g
Cholesterol
46mg
Sodium
402mg
Potassium
187mg
Total Carbohydrates
2.1g
Protein
13.6g
Vitamin A
6%
Calcium
2%
Vitamin C
10%
Iron
5%
Happy Cooking