Last Updated on December 1, 2020 by Sultana Parvin
The red portion of watermelon is normally eaten as a juicy fruit or its juice is used for making smoothies. But here in this recipe, the green part, which is usually thrown is used as the main ingredient with chicken. I always try to prepare a new recipes with different and new ingredients. Watermelon chicken recipe is one of my different and new recipes. The cooking of the watermelon chicken recipe is not that difficult. The most important thing is to peel out the skin and remove the red part of the watermelon.  Otherwise just follow the step by step process, you'll be able to do it.
In most of the chicken curries, there is a second key ingredient; usually, potato or any other vegetable is used. Some people use sweet pumpkin with the chicken. If you use the green part of watermelon with the chicken, you'll almost similar taste of cooking with sweet pumpkin. If you check the nutrition facts of the recipe, you will find the nutrition value. This recipe will give you a healthy and different taste. I hope you will like this recipe and from now on you will not throw out the white part of the watermelon. You can cook the white part of watermelon with fish.
| | |
| --- | --- |
| Preparation time | 20 minutes |
| Cooking time | 30 minutes |
| Total time | 50 minutes |
| Servings | 8 |
Ingredients for watermelon chicken recipe
250 g watermelon's white part
1 kg chicken
1 tablespoon garlic paste
3 tablespoon onion paste
1 tablespoon ginger paste
1 teaspoon cumin powder
½ teaspoon coriander powder
1 teaspoon turmeric powder
1 teaspoon chili powder
3 tablespoon oil
1 teaspoon hot spice powder
2 tablespoon onion, sliced
2 teaspoon salt
Process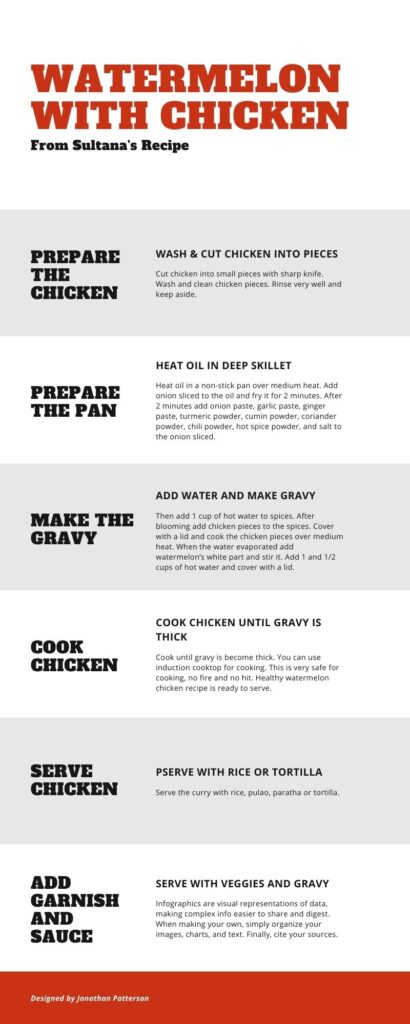 Step 1
Peel the green skin of the watermelon's white part. Cut watermelon's white part into 1×2 inch size. Wash and keep aside. Remove additional extra fats from the chicken pieces and cut the chicken into small pieces with a sharp knife. Wash and clean chicken pieces. Rinse very well and keep aside.
Step 2
Heat oil in a non-stick pan over medium heat. Add onion sliced to the oil and fry it for 2 minutes. After 2 minutes add onion paste, garlic paste, ginger paste, turmeric powder, cumin powder, coriander powder, chili powder, hot spice powder, and salt to the onion sliced. Then add 1 cup of boiling water to spices. After blooming, add chicken pieces to the spices. Cover with a lid and cook the chicken pieces over medium heat. When the water evaporated add watermelon's white part and stir it. Add 1 and 1/2 cups of boiling water and cover with a lid.
Step 3
It becomes cook until the gravy thickens. You can use an induction cooktop for cooking. This is very safe for cooking, no fire, and no-hit. Healthy watermelon chicken recipe is ready to serve.
Serve the curry with rice, pulao, paratha or tortilla.
If you like my watermelon chicken recipe please share my recipe with your family and friends. I love to cook and like to share my delicious food recipes with my beloved friends.
Recipe by Sultana
*Happy cooking*