Recipe by Sultana
Rice as the main course in any formal dinner or similar occasion needs to be served in an attractive manner. People decorate the rice dish in different colorful ways to draw eyes of everyone. This meatballs and rice recipe is not only a colorful and decorative presentation of rice, but it also makes the rice bowl as the most demanding dish on the table.
Meatballs that are made of lean beef very finely cooked and mixed with the fried rice along with other tasty and decorative ingredients. Unless you have the reservation of eating beef, meatballs with rice is an excellent way to service rice on any good occasion.
| | |
| --- | --- |
| Preparation time | 20 minutes |
| Cooking time | 30 minutes |
| Total time | 50 minutes |
| Servings | 4 |
Ingredients for meatballs
500 gm ground beef
2 tsp ginger paste
½ tsp red chili powder
1 tsp onion paste
1 tsp salt
2 tsp garlic paste
1 egg
½ tsp hot spice powder
½ cup chickpea powder
1 cup oil
 Process for meatball
Step 1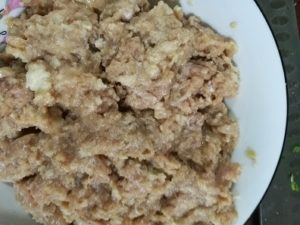 Take ground beef in a bowl. Add onion paste, ginger paste, garlic paste, chili powder, salt, and hot spice powder to the meat. Mix all together nicely. Add egg and chickpea powder to the mixture. Make small balls, little larger than chickpea and keep it aside.
Step 2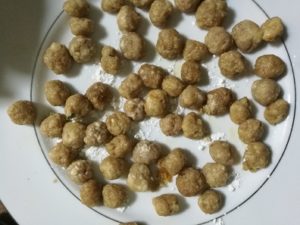 Heat oil in a pan and deep fry all balls until golden brown. Take out the balls from the pan and place them on a paper lined tray.  Keep them aside.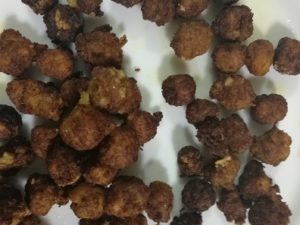 Ingredients for meatballs and rice recipe
500 gm rice (Basmati or scented rice)
100 gm clarified butter
100 gm nuts
50 gm sultanas
1 tsp salt
4-5 pieces cinnamon
4-5 pieces cardamom
1 litre Water
Process for meatballs and rice recipe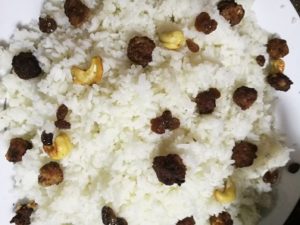 Step 1
Wash rice and rinse it very well. Keep aside.
Step 2
Heat clarified butter in a pan and fry sultanas (raisin) for 1 to 2 minutes. Take out all sultanas and keep them aside.
Step 3
Take water in a deep pan. Add cinnamon, cardamom, and salt to the water. Add rice after boiling the water. If you feel a bit dry, you need to add more water.
Step 4
Cook the rice on low beam with a lead for 15-20 minutes.
Step 5
When the rice is ready to add all meatballs to the rice. Spread all nuts and fried sultanas over the rice.
Meatballs and rice recipe is ready to serve. Serve this rice with chicken in foil paper or beef chili and salad to your guests.
| | |
| --- | --- |
| Calories | 655 |
| Total Fat | 20.5g |
| Cholesterol | 110mg |
| Sodium | 425mg |
| Potassium | 250mg |
| Total Carbohydrates | 68.6g |
| Protein | 43.2g |
| Vitamin D | 0% |
| Calcium | 1% |
| Iron | 118% |
I love to cook and like to share my delicious recipes with my beloved friends and family.
If you like my meatballs and rice recipe please share the recipe with your friends and family.
*Happy Cooking*