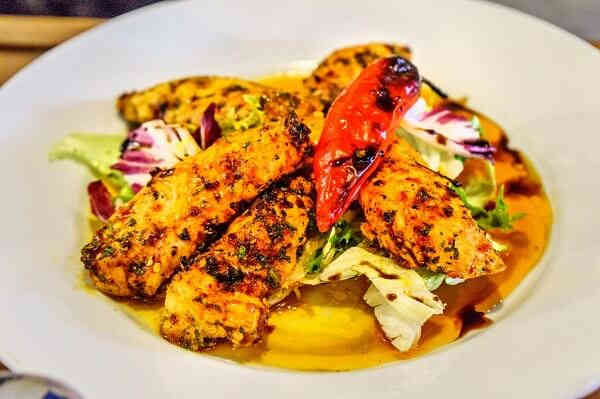 Last Updated on November 23, 2021 by Sultana Parvin
Who doesn't crave peri-peri chicken on weekdays? A scrumptiously crispy fried aromatically juicy chicken leaves you wanting for more. Piri-piri chicken wraps are the best meals for hanging out with friends or family, as they supplement joy and complement the bliss of being with your loved ones. Piri Piri chicken (peri-peri is also known as Piri-Piri chicken!) is one of the most delicious and quickest meals one could enjoy. We will share the best recipes of how to make spices? And how to make peri-peri chicken BBQ at home.
What is Peri-peri Chicken?
Peri peri chicken is served with a homemade peri-peri sauce, a hot pepper sauce from South Africa, it's a savoury meal of any cut-of chicken which is further marinated. A South African peri-peri chicken is one of the best meals one could have. Most people love its chicken legs, as it's the easiest to cook, juicy and tenderest part of a chicken. The peri-peri sauce is tangier on the chicken's most tender part which is legs and wings. 
Significance of Peri-peri Chicken
The key to the most celebrated flamed grilled peri-peri chicken is known as African Bird's Eye Chilli. You will know that the magic begins from the ground up as peri-peri chicken is grown in African soil. There are multiple benefits of this mouth-watering meal. You should know Vitamin A, B, and C exists in peri-peri chili seeds which are quite healthy. You will feel a rush of endorphin after devouring capsaicin, also an enhancement of metabolic rate, pupils' dilation and it enhances mood. This shows how healthy peri-peri-chicken is, and we should consume it more often.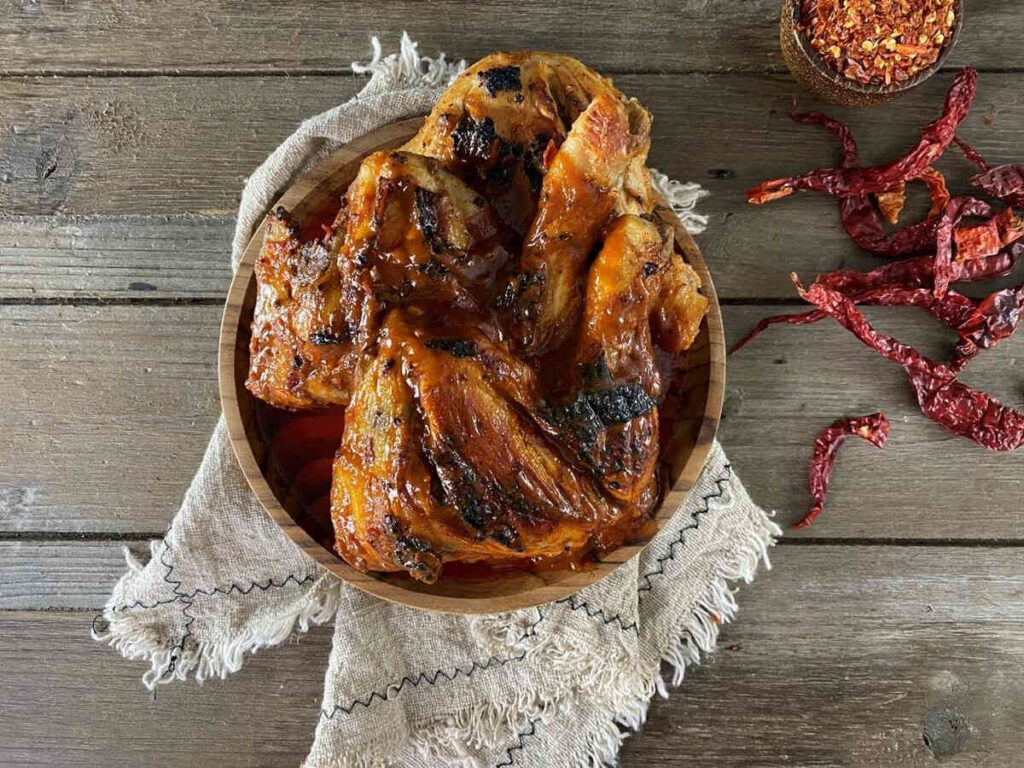 Peri-peri Sauce
Discussing peri-peri signature sauce, we add vinegar, oil, opinion, lemon, garlic, and salt in the making it. You can serve it at your restaurants anywhere, after marinating chicken in peri-peri sauce for 24 hours. The aromatic flavour of hot peri-peri chicken would build an intense burst of seasoning on your tongue after its sauce combines with an astonishing flavour.
What Spices Make Peri-peri Chicken at Home
No wonder peri-peri chicken all credit goes to the top-notch seasoning and spices it has. If you are interested in getting the best peri-peri chicken for your dinner or serving at your restaurant, then get ready for the secret spices we will share. There are some finest spices used in Piri-Piri chicken, which would add magic to your meal.
Peri-peri Spicy Mix
There are major ingredients of peri-peri chicken seasoning, which are mentioned below.  
Ingredients
2 teaspoons Paprika
1 teaspoon Dried oregano
1 teaspoon Cardamom
1 teaspoon Ginger powder
1 teaspoon Onion powder
1 teaspoon Garlic powder
1/2 teaspoon Salt
1/2 teaspoon Malagueta pepper
The secret to amazing peri-peri chicken lies in its spice mix. You will need to be careful about adding a healthy kick of seasoning to it. Peri-peri is a delicious combo of piercing and savoury spices with a healthy kick of heat in your mouth of piri-piri seasoning. You can add a nice level of savoury spice to soups and sauces, as it's an excellent dry rub for steaks or chicken. Moreover, it's fine to come with the best alternative of dried African bird's eye or malagueta pepper (piri-piri pepper). As per your tolerance level, you can get a cayenne (30,000 – 50,000 SHU). One could also try crushed pequin pepper or another option is dried Thai chilies, as it's more comparable in the heat than malagueta pepper. 
Guideline
Combine all ingredients in a mixing bowl, after grinding dried oregano into powder.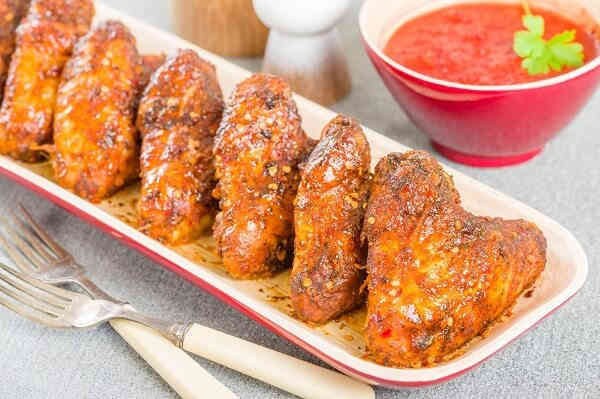 Marinade Ingredients 
1/2 cup Vegetable oil
1/3 cup BBQ sauce
3 tablespoons Worcestershire sauce
2 teaspoons Salt
2 tablespoon Minced garlic
1 teaspoon Yellow mustard
1 tablespoon Onion powder
2 teaspoon Squeezed lemon juice
Black pepper (as per preferences)
Tip: Make sure to carefully pound the entire chicken (1 1/2kg to 2kg) in a butterflied manner.
Recipe
Make sure to perfectly pound the entire chicken, so it could easily heat or cook the chicken. Combine all the ingredients together and marinade them. As per your preferences, add the spices/ malagueta pepper/piri-piri pepper/ or Sriracha, and turn-on the heat level. 
Until fully coated in sauce, from inside and outside of the chicken, fully marinade it. Then, refrigerate overnight if time allows, cover with plastic wrap. It's to be noted, the longer you put chicken with spicy food the more flavoured it would be, due to flavour penetration. 
Preheat to 470°F | 245°C your oven and cook when you are ready.
Let chicken sit for 15 minutes (to take chill out of chicken) in the refrigerator and remove when you think it's necessary. 
Put a well-seasoned skillet over medium heat, heat 2 tablespoons of oil in an oven proof pan. Until the peri-peri chicken becomes golden brown, you can sear for a good 5 minutes, and keep on putting the breast-side into an upside-down position. 
 Put oil in a pan, pour half of the marinade on the peri-peri chicken, carefully coat it in a frying pan by brushing the marinade on it. 
Cook for 20 minutes, after preheating chicken. Cook right through to the centre and juices run clear, reduce heat down to 400°F (200°C) and roast for a further 35-40 minutes.
Serve with remaining untouched marinade to use as a dipping sauce, once chicken is done. 
How to cook BBQ Piri piri Chicken
If you are looking for BBQ peri-peri chicken, then here it is. Preheat the grill, before placing the chicken on it. Make sure to have a well-greased grill. Now, place peri-peri chicken for 10 minutes. To the rest of the marinade, add 2 more tablespoons of oil (vegetable). Be attentive, and keep on flipping both sides of the chicken, so the chicken would not burn. Until chicken is completely cooked through, and juices run clear, keep on flipping both sides, cook for 40 minutes, after closing the barbecue lid.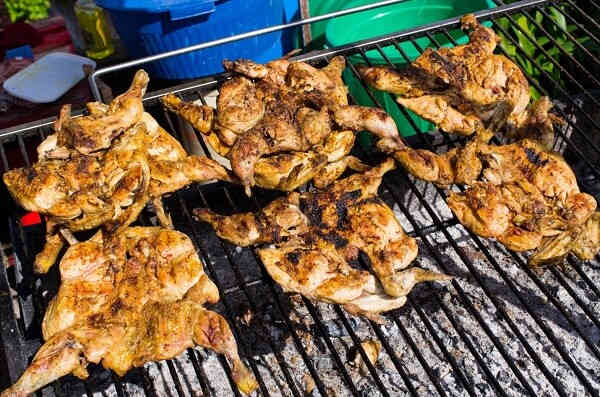 Servings 
You can serve Piri Piri chicken with BBQ sauces and other seasonings. Also get corn, carrots, potatoes and place them on the BBQ grill. Grill it and serve an amazing meal.