Last Updated on December 1, 2020 by Sultana Parvin
If you have a backyard, it is very easy to grow spinach along with other homegrown vegetables. So, that would permit you to make different spinach recipes as Sultana's recipe offers you two spinach cheese recipes. The process of these spinach cheese recipes are very simple and presented for easy understanding of any fresher.
Spinach is one kind of green leafy vegetable which is very common in every corner of the world. We know spinach has a lot of iron. It has also different mineral and vitamins. Its antioxidants benefit the eyes. Very recently researchers discovered spinach can prevent from cancer. In addition to a good taste of spinach recipes, it is also a very healthy vegetable that you can eat in every week.
Spinach cheese recipes Bake
| | |
| --- | --- |
| Preparation time | 20 minutes |
| Cooking time | 60 minutes |
| Total time | 1 hour 20 minutes |
| Servings | 6 |
Ingredients for spinach cheese recipes bake
3 medium-size eggs, beaten
500 gm spinach, chopped
4 oz cheddar cheese, grated
1 cup of cottage cheese
¼ cup butter softened
2 teaspoon flour
1 teaspoon salt
½ teaspoon pepper
Process
Boil the spinach for 5 minutes and drain out the water.
Keep aside. Beat the eggs and keep aside.
Mix the spinach, cottage cheese, cheddar, butter, eggs, flour, salt, and pepper in a large bowl and mix thoroughly.
Spoon into a greased baking dish.
Preheat the oven at 200°C for 10 minutes.
Bake the spinach at 180°C for 50-60 minutes.
Spinach cheese bake is ready to serve.
Serve the spinach with a tortilla.
Spinach cheese recipes curry
| | |
| --- | --- |
| Preparation time | 15 minutes |
| Cooking time | 20 minutes |
| Total time | 35 minutes |
| Servings | 4 |
Ingredients for spinach cheese curry
500 gm spinach
1/2 cup cottage cheese, crushed
¼ cup yogurt
¼ teaspoon garlic paste
¼  teaspoon cumin powder
1 tablespoon oil
½ teaspoon green chili paste
½ teaspoon salt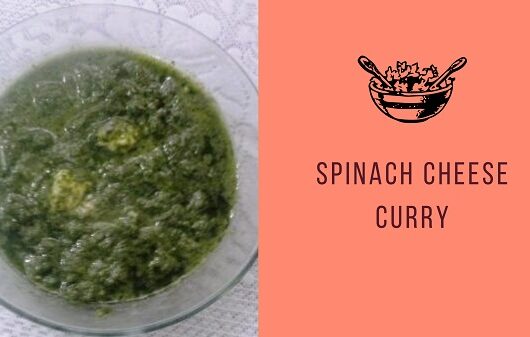 Process
Put spinach and green chili to the blender and blend them.
Keep the blended spinach aside.
Heat oil in a non-stick pan. Add the mixture of spinach, crushed cheese, yogurt, cumin powder, garlic paste, and salt to the oil.
Cook the curry until the water dries up.
Spinach cheese curry is ready to eat.
Serve the curry with bread or rice or tortilla.
If you like my spinach cheese recipes please share the recipe with your family and friends. I love to cook and like to share my delicious food recipes with my beloved friends.
*Happy Cooking*
Recipe by Sultana