Last Updated on December 1, 2020 by Sultana Parvin
Pomfret fish is one of the most delicious fish and available in most of the South Asian countries. Pomfret fish has different varieties of species, but the white and medium-sized one is the most lucrative and delicious sea fish available in South Asian countries that are connected with the Bay of Bengal. Because of its soft bones, special flavor and easy to pick the fish flashes, this fish is liked by most of the people in Bangladesh, India, and Pakistan. Medium-sized pomfret fry recipes are so much favored that hardly any fish is left in the dish without eating. Here you will get two pomfret fry recipes, one is simple fry and another is grilled pomfret. Its cooking is also as simple as to eat.
Recipe of Pomfret Fish
Grilled Pomfret
Pomfret Masala Fry
Pomfret fry recipes grilled pomfret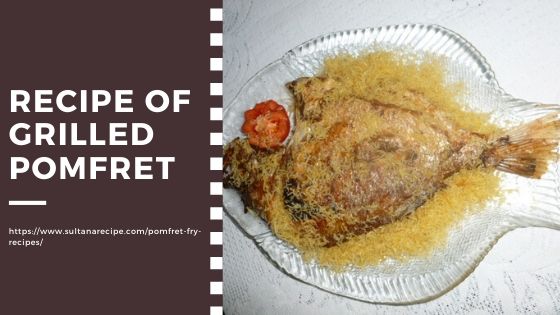 | | |
| --- | --- |
| Preparation time | 30 minutes |
| Cooking time | 15 minutes |
| Total time | 45 minutes |
| Servings | 6 |
Ingredients for pomfret fish grill recipe
1 lb pomfret fish (Fresh Seafood)
1 teaspoon ginger paste
50 gm potato
1 teaspoon garlic paste
1 tablespoon lemon juice
2 tablespoon yogurt
1 teaspoon cumin powder
1teaspoon chili powder
½ teaspoon salt
1 tablespoon olive oil
Process for pomfret fish recipes grilled
Cut, wash, and make 3-4 incisions on each and set aside.
Add lemon juice to the pomfret fish. Keep it for 10 minutes. Wash them very well.
Mix all other ingredients and apply them to both sides of the pomfret fish. Keep for 20 minutes.
Preheat the oven at 350⁰F for 10 minutes.
Fold the fish with a foil paper and grill for 10-15 minutes at 350⁰F.
Cut potatoes as julienne cut and wash potato slice. Keep it aside.
Fry potato slice until crispy.
Garnish the grilled pomfret fish with potato fry.
Grilled pomfret are ready to serve.
Serve the pomfrets as a snack or as a side course during dinner.
             Nutrition Facts: Amount per serving
Calories
159
Total Fat
4.1g
Cholesterol
80mg
Sodium
250
Potassium
30mg
Total Carbohydrates
1.0g
Protein
28.3g
Nutrition Grade
C-
Nutrition Analysis
Good Points
Bad Points
Low in sugar
High in cholesterol
Pomfret Fry Recipes
| | |
| --- | --- |
| Preparation time | 40 minutes |
| Cooking time | 20 minutes |
| Total time | 1 hour |
| Servings | 6 |
Ingredients for recipe of Pomfret masala fry
1 kg Fish Pomfret medium size
1 cup of vegetable oil
½ teaspoon cumin powder
1 teaspoon turmeric powder
1/4 teaspoon garlic paste
1/4 teaspoon ginger paste
1 tablespoon lemon juice
½ teaspoon salt
Process for pomfret fry recipes
Heat vegetable oil in a non-stick frying pan over medium heat.
Scratch both sides of the fish. Mix lemon juice and salt with the fish. Keep them for 10 minutes.
Wash the fish very well.
Apply turmeric powder, garlic paste, ginger paste, cumin powder, and salt on the outer surface of Pomfret and keep for 30 minutes.
When the oil is hot enough put pomfret and fry well till their color is brown.
Take out the pomfret from the frying pan.
Transfer in a colander and put them on a paper-lined tray so that extra oil can absorb.
Pomfret fries are ready to serve.
Serve as a side dish with the main course.
White Pomfret Nutrition Facts
             Nutrition Facts: Amount per serving
Calories
459
Total Fat
37.0g
Cholesterol
80mg
Sodium
240
Potassium
14mg
Total Carbohydrates
.4g
Protein
28.3g
Nutrition Grade
D-
Nutrition Analysis
Good Points
Bad Points
Low in sugar
 
If you like my pomfret fry recipes please share my recipe with your family and friends. I love to cook and like to share my delicious food recipes with my beloved friends. *Happy Cooking*
Recipe by Sultana