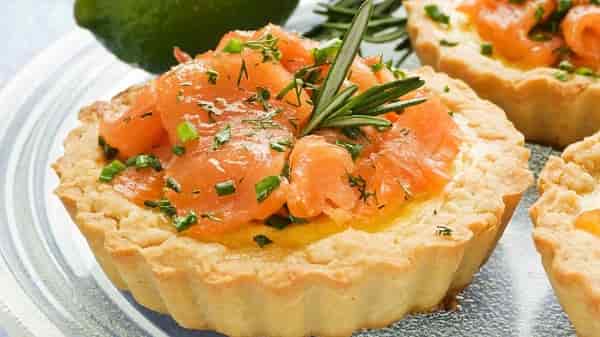 Sultana tartlets are a delightful dessert that is easy to make and perfect for any occasion. Made with a flaky pastry crust, sweet and juicy sultanas (golden raisins), and a touch of cinnamon, these mini tartlets are sure to be a crowd-pleaser. Whether you're looking to whip up a quick dessert for a family gathering or want to impress guests at a dinner party, this recipe is a must-try. So, let's get started!
Ingredients:
1 cup all-purpose flour
1/2 cup unsalted butter
1/4 cup granulated sugar
1/2 teaspoon vanilla extract
1 egg yolk
1/2 cup sultanas (or raisins)
1/4 cup apricot jam
How to Prepare Sultana Tartlets
Preheat oven to 375°F (190°C).
In a medium bowl, mix together the flour, butter, sugar, vanilla extract, and egg yolk until a dough forms.
Roll the dough into small balls, about 1 inch in diameter. Place them in a mini muffin tin, pressing down on the center to form a well.
Fill each well with sultanas (or raisins).
Bake for 15-20 minutes, or until the edges are golden brown.
Remove from the oven and let cool for 5 minutes.
Heat the apricot jam in a small saucepan until it becomes liquid.
Spoon the apricot jam over the top of each tartlet.
Allow the jam to cool and set.
Enjoy your delicious and sweet Sultana Tartlets! The flaky pastry combined with the juicy sultanas and the sweet apricot jam makes for a perfect treat. They can be served as a dessert or as a sweet snack. Experiment with different types of fruit and jam to create your own unique twist on this classic recipe.
Here are Some Tips for the best sultana Tartlets
Use fresh ingredients: Make sure to use fresh ingredients like eggs, milk, and butter for a delicious and creamy filling.
Roll out the dough: Roll the tartlet dough to a thickness of about 1/8 inch, making sure it fits the size of your tartlet pan.
Blind bake: Blind bake the tartlet crusts to prevent them from becoming soggy.
Add filling carefully: Pour the sultana filling into the tartlet crusts, making sure to not overfill them.
Bake until set: Bake the tartlets in the oven until the filling is set and golden brown on top.
Cool before serving: Let the tartlets cool completely before removing them from the pan and serving.
Serve with whipped cream: Serve the sultana tartlets with whipped cream for added sweetness.
Store leftovers properly: Store any leftover tartlets in an airtight container in the refrigerator for up to 3 days.