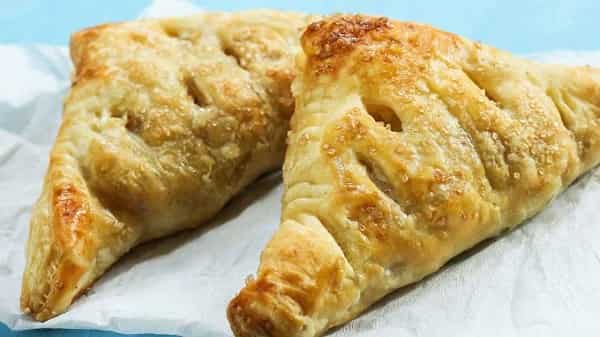 Last Updated on February 9, 2023 by Sultana Parvin
Sultana turnovers are a classic dessert that features a sweet, flaky pastry filled with juicy sultanas (also known as golden raisins). These turnovers are easy to make and are a perfect treat for any occasion. The combination of the crisp pastry and the sweet filling makes for a delicious and satisfying bite. With a simple recipe and minimal ingredients, you can have freshly baked sultana turnovers in no time.
Ingredients:
2 cups all-purpose flour
1/4 teaspoon salt
1/2 cup unsalted butter, chilled and cut into small pieces
1/4 cup ice water
1 cup sultanas
1/4 cup brown sugar
1 teaspoon cinnamon
1 egg, beaten
1 tablespoon milk
How to Prepare Sultana Turnovers
In a large bowl, whisk together flour and salt.
Using a pastry cutter or your fingertips, cut in the chilled butter until the mixture resembles coarse crumbs.
Gradually add ice water to the mixture, stirring with a fork until the dough comes together.
Knead the dough briefly on a floured surface, wrap it in plastic wrap, and chill for 30 minutes.
In a separate bowl, mix together sultanas, brown sugar, and cinnamon.
Preheat oven to 400°F. Line a baking sheet with parchment paper.
On a floured surface, roll the chilled dough to 1/8-inch thickness.
Cut the dough into 4-inch squares. Place a spoonful of the sultana mixture in the center of each square.
Brush the edges of the squares with the beaten egg, then fold the dough over to form a triangle. Press edges together with a fork to seal.
Place turnovers on the prepared baking sheet and brush the tops with a mixture of beaten egg and milk.
Bake for 20-25 minutes or until golden brown. Serve warm.
Sultana Turnovers Recipe: Tips for Delicious Treats
Sultana turnovers are a popular pastry that can be enjoyed as a sweet snack or as a dessert. Here are some tips for making delicious sultana turnovers that are sure to be a hit with your friends and family.
Use high-quality ingredients: Use all-butter puff pastry and high-quality dried sultanas for the filling. This will ensure that the pastry is flaky and the filling is sweet and juicy.
Don't over-mix the filling: Over-mixing the sultana filling can cause it to release too much liquid, making the pastry soggy. Instead, gently mix the ingredients until just combined.
Chill the dough: Chilling the dough before rolling it out will help to prevent it from shrinking when it bakes.
Roll the dough evenly: When rolling out the dough, make sure to roll it evenly to a thickness of about 3mm. This will ensure that the pastry cooks evenly and rises to create flaky layers.
Cut the dough into even shapes: Cut the dough into equal-sized squares or circles for uniform turnovers.
Brush with egg wash: Before baking, brush the tops of the turnovers with beaten egg. This will help to create a golden, glossy finish.
Bake until golden: Bake the turnovers in a preheated oven at 200°C until they are golden brown and crisp, about 20-25 minutes.
Serve warm: Serve the sultana turnovers warm, with a dusting of icing sugar and a scoop of vanilla ice cream for a delicious treat.
In conclusion, with these tips, you can make delicious sultana turnovers that are sure to be a hit with your friends and family. Enjoy!