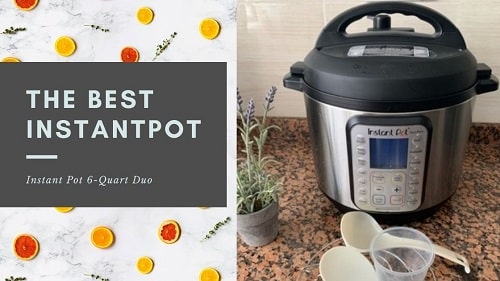 Last Updated on September 2, 2021 by Sultana Parvin
How are you going to celebrate some special nights? Maybe you will do it with your dearest one who will love to cook something special for that kind of night using a modern cooking gadget – the instant cooking pot. Everyone will love to cook something special for that kind of night using a modern cooking gadget and want to have the best instant pot.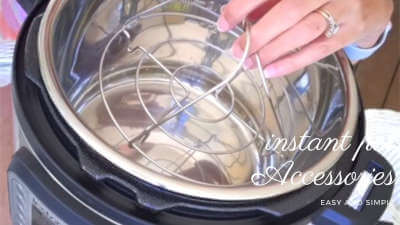 The Features of The Best Instant Pot 6-Quart Duo
The Best Instant Pot 6-Quart Duo is a cooking gadget that is hi-tech, and seven in one. One can use it as a rice cooker, saucepan, yogurt maker, pressure cooker, steamer, warmer, and slow cooker. While it is compelling to stay home amid this pandemic, why not making the home more comfortable?
Product Description
Weight: 5.35 kg
Color: Black
Contrasts with: This product is less multi-functional than Instant Pot DUO Crisp Pressure Cooker which works as an air fryer also.
Material: Stainless Steel
Capacity: 5.68 Liters allow cooking meal for 6 people
Product Specification
Microprocessor: monitors the pressure, temperature, time, and heating intensity.
Inner Pot: It's stainless steel with a trivet in it.
The bottom: consists of 3 tiers
Safety lock: The lid protects overheating
3 types of steam control: fully locked, quickly releasing, and moderately releasing by the use of the lid-handle
Product Features
The 3g technology saves time and labor of cooking.
Easy to clean: saves dishwasher
It has all the components of safe pressure-cooking.
Its large display is easy to read with buttons easy to use.
Saute function: makes a delicious sauce
Rice function: cooks rice with one push of a finger
How the Instant Cooking Pot Can Help?
This outstanding multi-cooker is built with the latest third generation technology with its microprocessor that monitors: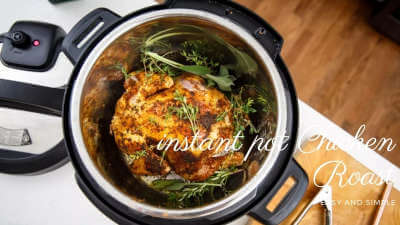 Pressure
Temperature
Time
Heating intensity
Its inner pot is stainless steel golden with a trivet that will allow a user to put any extra pot, glass, or spoon inside for the recipe. The bottom is extremely durable as it comprises three tiers. The size of the pot allows cooking enormous meals for six persons. That is why it is called a popular size.
Overheating is strongly protected, especially by the safety lock of the lid.
How to control?
The handle on top of the lid provides three functions of steam control:
Steam fully locked
Steam quickly releasing
Steam moderately releasing
The outer skin of the pot, especially the plastic of the upper lid is so smooth that the cook will love to touch it over and over again. The body and the lid are outstandingly thick though not heavy to lift which will give a gorgeous feeling.
What Should You Cook in An Instant Pot?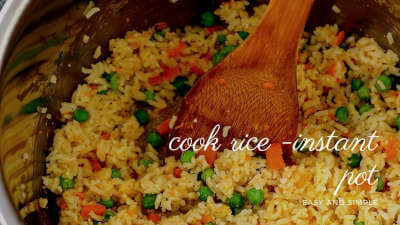 This pot is suitable for cooking widely ranging from a heavy meal like dinner or lunch with beef biryani or roasted chicken to light snacks at any time like cakes and pasta for a single woman in a family kitchen or for cooks in a reputed eatery.
Pros
Cooks 6 times faster
Spends up-to 70% less energy
Automatic keep-warm mode ensures the food is warm when it is time to eat.
Portable: easy to carry and can be used both in kitchen and dining room
A wide variety of recipes can be accomplished using this multi-functional cooking pot
Cons
The plastic ring inside the lid may become loose after many days of use.
$80 may be high-priced
Are Instant Pots Safe to Leave Unattended?
However, while a cook has to give half an hour to cook some vegetables, this instant pot will help to do the task within six minutes, although in high pressure three minutes will be enough. Only fifteen minutes will be necessary to cook beef biryani.
Perfect Size for a Kitchen
A kitchen with an oven and many cooking gadgets will take up space in the kitchen and may make the cook feel stuck there. But having an Instant Pot 6-Quart Duo will let one freely move in the kitchen, or easily bring the cooking pot to the dining table to cook.
Is an Instant Pot Worth It?
The instant pot is exclusively time-saving for cooking may keep you free of tension of when to finish the cooking and how will be the quality of the food cooked. You will surely feel thrilling having the best Instant Pot 6-Quart Duo in your kitchen!