Laccha vermicelli delight is a quick and easy recipe from vermicelli recipes. This recipe is a very popular food item in Bangladesh, India, Pakistan, and Arabic countries. The main recipe comes from the Arabic country. Here I make this recipe in my own way. Its use is mostly seen as a special snack for entertaining guests. There are various dishes made of laccha vermicelli, one of which is its delight, lovely and delicious sweetened vermicelli recipes. Although the Pieces of vermicelli delight look like a cake, it is basically dried up laccha with milk and crushed peanuts. It is very tasty snacks and most people would love to eat a few pieces.
Laccha vermicelli delight cooking process is easy and simple. In our busy lives, we always try to make easy, simple but delicious recipes. Vermicelli delight recipe is perfect for that. The only thing you need to follow is the ratio of the vermicelli and milk and follow the step by step procedure.
I have to prepare the vermicelli recipes for my family for a special occasion. All my family members like this recipe very much. When I present the recipe to my friends for the first time they asked me the recipe of the laccha vermicelli delight. So friends here your favorite recipe and prepare the recipe for your beloved family and friends. Enjoy cooking and enjoy your family member's smiley face.
| | |
| --- | --- |
| Preparation Time | 10 minutes |
| Cooking Time | 20 minutes |
| Total Time | 30 minutes |
| Servings | 16 |
Ingredients for vermicelli recipes
1 packet (200 gm) vermicelli
¾ tin condensed milk
2 tablespoon butter
½ cup crushed peanuts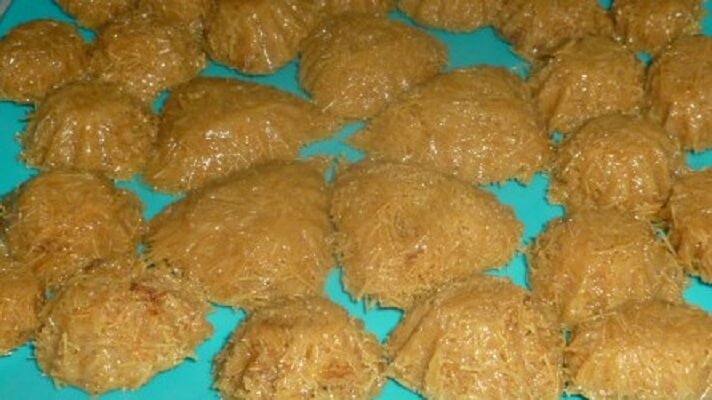 Process
Keep the butter at room temperature.
Heat the butter in a pan.
Add vermicelli to the butter.
Fry the vermicelli until light brown.
Add condensed milk to the vermicelli and stir the mixture continuously.
After 5 minutes add the crushed peanuts to the vermicelli and stir the mixture gently.
When milk and vermicelli are mixed all together and it looks dry, turn off the burner.
Take off the vermicelli mixture from the pan and take it in a greased dish.
Use different dices or shapes for better looking. Here I used different small cake dices. For using cake dice: first, you have to grease the dice then put vermicelli and take out the shaped vermicelli from the dice. It will look like the picture which I have provided with this recipe. If you don't have any dice or shape you can even use anything like Coke bottle's cover or any small shaped spoon for giving shape. The shape is dependent up to you or just simply cut it as per your choice.
Keep the vermicelli delight in the freezer for 2 to 3 hours for cooling and to be a little harder. If you want to make it healthy you can use low fat condensed milk instead of regular condensed milk.
Serve yummy and delicious laccha vermicelli delight in front of your family or friends or guest.
If you like my vermicelli recipes please share this recipe with your family and friends.
I love to cook and like to share my delicious food recipes with my beloved friends.
Recipe by Sultana
*Happy Cooking*