Last Updated on December 1, 2020 by Sultana Parvin
Bharta is a type of mashed recipe of different ingredients that are served as a side dish during family lunch or dinner in Bangladeshi and Indian culture. Different types of ingredients are used for bharta. But, here 2 types of bharta recipes are presented for the followers of Sultana's recipe. Those are Red chili bharta and egg bharta.
Egg bharta recipes
Eggs are very common and readily available foodstuff in almost every country. As such eggs are eaten by almost everyone. Bharta is a sort of mashed food item, which is prepared by varieties of ingredients. Here egg makes the main ingredient for bharta. It is very tasty and healthy food. It goes very well with rice.
The main feature of this recipe is that it is one of the simplest ways of making a food item. If you have very less time before going out, yet you can make a meal by preparing egg bharta. Just put eggs in a hot water pan by the time you may be fully ready, then smash and mix with oil, salt, onion and green chili.
| | |
| --- | --- |
| Preparation time | 10 minutes |
| Cooking time | 30 minutes |
| Total time | 40 minutes |
| Servings | 4 |
Ingredients for egg bharta recipes
2 Eggs
1 onion
2 green chilies
1 tablespoon mustard oil
1 tablespoon coriander leaves
½ tsp salt
Process for egg bharta
Boil egg for 15 min.
Peel the eggs and then crush into small pieces.
Slice the onion, green chilies, coriander leaves.
Mix egg, sliced onion, green chilies, coriander leaves, and mustard oil in a bowl.
Transfer the egg bharta in a serving dish.
Your favorite egg bharta recipes are ready to serve.
Serve this with rice.
Red Chili Bharta
Chili as a hot ingredient increases tastes of other food dishes. However, in this recipe chili alone is used as the main ingredient of red chili bharta. This is a very easy and simple recipe. Red chili bharta is usually served with 'panta bhat' (rice soaked in water) as a new years tradition in Bengali (Bangla speaking people) culture. Red chili bharta is more liked by those prefer hot spicy foods. Particularly, if someone wants to eat soaked rice, this bharta including other bharta items are the perfect menu.
Preparation of red chili bharta is not very difficult, but the use of mortar pestle is recommended for making the paste. The bharta is also needed short cooking after making the paste.
| | |
| --- | --- |
| Preparation time | 10 minutes |
| Cooking time | 10 minutes |
| Total time | 20 minutes |
| Servings | 8 |
Ingredients for chili recipes
50 gm dry red chili
1 onion (medium size)
1 tablespoon mustard oil
1/2 teaspoon salt
1 garlic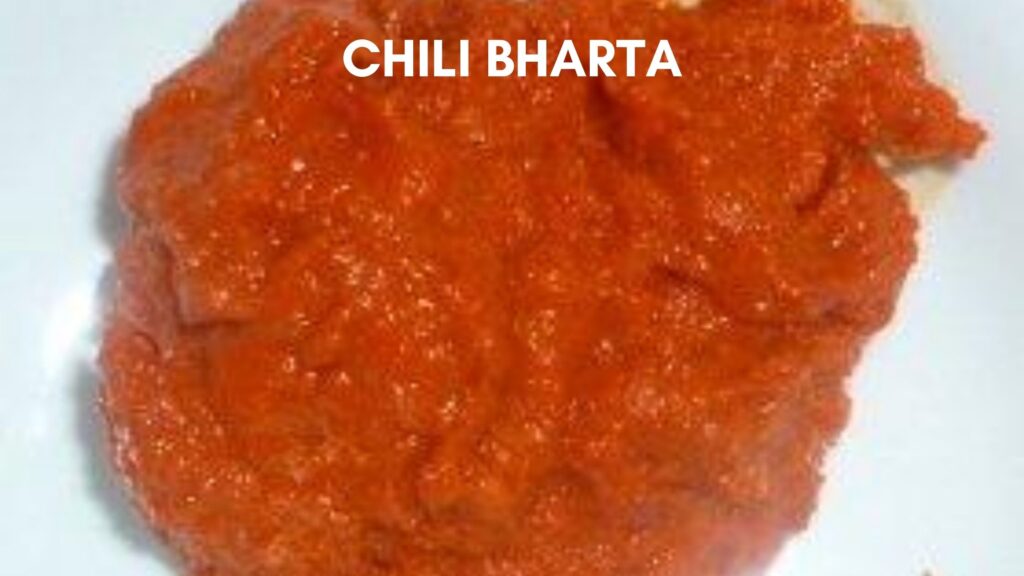 Process for chili bharta
Paste red chili with mortar and pestle.
Paste garlic and onion.
Add all ingredients and mix gently.
Then add mustard oil to the mixture.
Put the mixture into a pan and cook for 10 minutes with low heat.
Transfer the red chili bharta in a serving dish.
Hot red chili bharta is ready.
If you like my bharta recipes please share my bharta recipes with your family and friends.
I love to cook and like to share my delicious food recipes with my beloved friends.
*Happy Cooking*