Fish is always good for health. Usually, we eat fish by frying or cooking it. Here I am going to give you two different recipes about fish using tuna fish. You can use any other fish as well. These two recipes are tuna fish loaf recipe and tuna fish salad.
Tuna fish is a good source of omega 3 fatty acids and protein. It has many health benefits, it helps decrease cardiovascular conditions, bring down blood pressure and cholesterol level, help in weight reduction and ensure against different kidney infections etc.
These two recipes are easy and simple but healthy and low fat. So enjoy cooking.
Tuna fish Loaf recipe
| | |
| --- | --- |
| Preparation time | 20 minutes |
| Cooking time | 1 hour 10 minutes |
| Total time | 1 hour 30 minutes |
| Servings | 6 |
Ingredients for fish loaf recipe
250g tuna fish, tinned
1 cup bread, grounded
2 tablespoons carrot, sliced
1 teaspoon onion, sliced
1 tablespoon butter
¼ teaspoon salt
2 egg yolk
1 cup milk
2 teaspoons lemon juice
Process for fish loaf recipe
Preheat the oven at 350⁰F for 5 minutes.
Heat butter in a non-stick frying pan and fry onion and carrot. Saute for 3 to 4 minutes. Keep it aside.
Add minced fish, bread, salt, and black pepper with the onion and carrot. Here I used tinned tuna fish, you can use any kind of fish like Tilapia or carp or rohu fish.
Mix egg yolk with milk.
Add fish and lemon juice to the milk mixture.
Add egg white in-between fish folds.
Grease the baking dish with the butter. Put the mixture into the baking dish.
Preheat the oven for 10 minutes at 200c and bake the fish loaf for 1 hour at 180c.
For the best oven check-in shop or online.
Serve the fish loaf still warm.
Serve the fish loaf recipe as a snack with any kind of chutney or sauce or tuna fish salad.
Tuna Fish Salad Recipe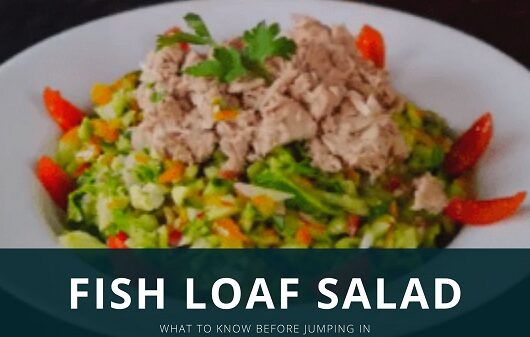 Ingredients for tuna fish salad recipe
1 tin tuna fish
2 tablespoons cucumber, sliced
2 tablespoons tomato, sliced
1 tablespoon onion, sliced
1 tablespoon carrot, sliced
½ teaspoon salt
½ teaspoon black pepper powder
1 tablespoon lemon juice
1 tablespoon olive oil
Process
Cut the cucumber, carrot, onion, and tomato into the same size. Use vegetable chopper for nice chopping.
Make salad dressing in a separate bowl. Take olive oil, lemon juice, salt, and pepper in a bowl. Mix all together and keep aside.
Open the canned of tuna fish. Add tuna fish with the vegetables.
Add salad dressing to the salad mixture and mix gently.
Tasty and healthy tuna fish salad is ready to serve.
Serve this healthy salad with tuna fish loaf.
If you like my tuna fish loaf recipe and tuna fish salad please share this recipe with your family and friends. I love to cook and like to share my delicious food recipes with my beloved friends.
*Happy Cooking*