Peas are good for health. There are many benefits of peas like weight loss, stomach cancer, anti-aging, heart disease, blood sugar regulation etc. We can eat peas dry or green. Here I described two peas recipes, one is with dry peas that are peas ghugni and another is with green peas, green peas fry. Both are healthy and low-fat recipes.
Peas recipes: Peas ghugni
| | |
| --- | --- |
| Preparation time | 6 hours |
| Cooking time | 30 minutes |
| Total time | 6 hours 30 minutes |
| Servings | 16 |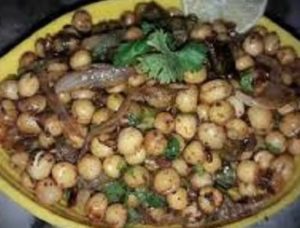 Ingredients for peas recipes peas ghugni
500 g dry peas, skinless
100 g onion, sliced
1/4 tsp turmeric powder
1/2 tsp black pepper, powder
1 tsp dry red chili, grounded
2 tbsp lemon juice
2 tbsp cilantro, sliced
1 tsp salt
2 tbsp onion, sliced for fry
2 tbsp oil
Process for peas recipes peas ghugni
Soak dry peas for 5 to 6 hours.
Drained out water and wash again with hot water. Boil for 20 minutes. Keep aside.
Heat oil in a non-stick frying pan and add onion slice. Fry until brown and keep aside. You can add 1 tsp sugar to the onion before take out from the burner.
Fry dry red chili without oil and ground it after cooling. Keep aside.
Heat oil in a pan and add onion slices. Fry onion until tender, then add boiled peas and turmeric powder.
Stir peas and add black pepper powder, salt, and lemon juice.
Cook for 4-5 minutes and add cilantro slice.
Turn off the burner.
Take peas in a serving dish and spread fried onion and grounded chili over the peas.
Peas ghugni is ready to serve.
Serve this as a snack.
                                                     Nutrition Facts
Calories
701
Total Fat
30g
Cholesterol
0mg
Sodium
2243
Potassium
1311mg
Total Carbohydrates
84.7g
Protein
29.2g
Nutrition Grade
A
                                                 Nutrition Analysis
Good Points
Bad Points
High in magnesium
High in sodium
No cholesterol
High in sugar
High in vitamin A
 
Very high in vitamin C
 
High in dietary fiber
 
High in thiamin
 
Green Peas Fry
Green peas are very tasty among the various types of beans seeds, especially while those are still not yet hard enough. That's why green peas seeds are used as a tasty ingredient in pulao, pasta/noodles, and some curries. The seeds also make a tasty snack if fried with oil, onion, and chili. This is also a very easy recipe. But the only means to make this recipe is to collect the green peas beans and then get the seed out of the beans.
Preparation and cooking of green peas fry are very simple. Only you need to open out of the seeds from beans and fry. That set, enjoy!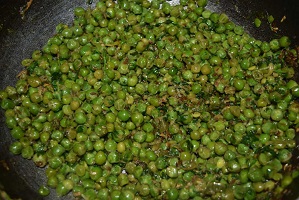 | | |
| --- | --- |
| Preparation time | 20  minutes |
| Cooking time | 10 minutes |
| Total time | 30 minutes |
| Servings | 4 |
Ingredients for green peas fry
250 gm green peas
1 onion, sliced
2 green chilies, sliced
1 tbsp cooking oil
½ tsp salt
Process for green peas fry
Open out the seeds from the green beans.
Heat oil in a non-stick frying pan.
Add onion, green chilies and green peas to the oil.
Stir gently for about 5 minutes.
When the skin of the green peas starts getting dented, take out of the pan.
Your tasty green peas fry snack is ready to eat.
If you like my peas recipes please share my recipes with your family and friends.
I love to cook and like to share my delicious food recipes with my beloved friends.
                                                  Nutrition Facts
Calories
361
Total Fat
14.7g
Cholesterol
0mg
Sodium
1143
Potassium
711mg
Total Carbohydrates
44.7g
Protein
13.2g
Nutrition Grade
A
                                                  Nutrition Analysis
Good Points
Bad Points
High in magnesium
High in sodium
No cholesterol
High in sugar
High in vitamin A
 
Very high in vitamin C
 
High in dietary fiber
 
High in thiamin
 
*Happy Cooking*