Recipe by Sultana
Chicken cashew salad is a highly decorated and attractive salad with both high protein and vegetables. The salad enriches its flavor and delicacy through mixing cashew nut and chicken slices. It is highly recommended food item when you want to include attractive dishes during special occasions. When we go to a restaurant, I hardly found that chicken cashew nut salad is not there on the menu list. Usually, we eat this salad at the restaurant but if you want, now you can make it at home. Follow the recipe and make a delicious salad for your family and friends.
Although there is not a hard and fast rule of making the salad, yet this recipe is made highly decorated for the special occasion. The cooking parts of this item make it a very easy and simple recipe, though a good number of ingredients are added to enhance the color and attraction. With everything chicken, cashew nut salad is a healthy and delicious food, but the quantity should be limited to those under food restriction. You can take this salad itself. Though salad is a side dish but this salad can be the main dish. I saw some of my friends who are taking the dish as a main dish.
| | |
| --- | --- |
| Preparation time | 20 minutes |
| Cooking time | 20 minutes |
| Total time | 40 minutes |
| Servings | 4 |
Ingredients for chicken cashew salad:
250 gm chicken breast
100 gm cashew nut
1 egg
1 tbsp red bell pepper
2 tbsp flour
1 tbsp corn flour
1 tsp black pepper powder
2 tbsp onion, sliced
1 tbsp green bell pepper
½ medium size tomato
1 tbsp cilantro slice
2 tbsp chili sauce
2 tbsp fish sauce
1 tsp lemon juice
1 tsp salt
2 tbsp oil
Process for chicken cashew salad:
Step 1
Cut the chicken breast into long and thin slices. Use a sharp knife and chopping board for slicing.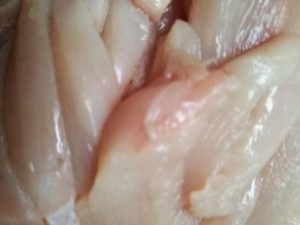 Step 2
Add flour, corn flour, ½ tsp salt, black pepper powder, and egg to the chicken slices. Kepp it aside for 10-15 minutes.
Step 3
Heat the oil in a frying pan and fry all chicken pieces until brown.Transfer the chicken pieces to a colander to drain away oil drops and keep it in a tray with an absorbent paper.
Step 4
Fry cashew nuts in the same oil until light brown. Strain out from the oil and add chicken slices.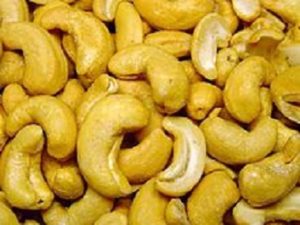 Step 5
Cut green bell, red bell pepper, onion, and tomato into julienne. Mix these vegetable slices with chicken and cashew nut mixture. Add lemon juice, salt, fish sauce, chili sauce to the mixture of chicken cashew nut and vegetable mixture. Add cilantro, rest half tsp salt, and then mix well.
Step 6
Your favorite chicken cashew nut salad is ready to eat. Serve the salad with rice, pulao or biriyani or as a side dish with any main dish.
If you like my chicken cashew nut salad please share this recipe with your family and friends.
I love to cook and like to share my delicious food recipes with my beloved friends.
*Happy Cooking*