Healthy food is more than just salads, Bento boxes are the new, easy, and convenient way to pack lunch on the go. Are you pondering what bento boxes are? Or have you seen the pictures all over Pinterest? No worries, happy to help you – they are an old age Japanese tradition of packing the lunch in colorful decorative containers laden with an assortment of healthy ingredients. That said, the staple element in the bento boxes is rice or anything with a base of rice. However, in modern days one can choose different vegetables, proteins, and fruits per choice and create a successful bento box recipes lunch for your little one and yourself!
Do you know the best part about bento meals? You often don't need to microwave or heat them; one can relish the delicacy at room temperature only. So "Sayonara" to cooking time and "Yokoso" to healthy meals!
Be Creative While Making Bento Boxes but do follow Some Basic Rules:
Nutrition Is The Key- No matter! You are making bento boxes for breakfast or lunch. It is imperative to keep the nutritional value counted. Thus create a meal that is high in taste as well as has a substantial combination of proteins, carbs, fruits, and vegetables.
Say No Wastage- Bento boxes are made with small apartments in which food looks colorful, healthy, and tasty. So prepare budget-friendly dishes like a green salad or tuna salad to cover the coming 2-3 weeks meals. This indicates no wastage of food!
Make It Beautiful- The fundamental concept of Japanese bento boxes is to present the food in an organized and orderly way. So, keep the food in the container in a beautiful way, so when you open the box it looks and feels tasty. Have fun; play with colors, and textures while preparing bento boxes.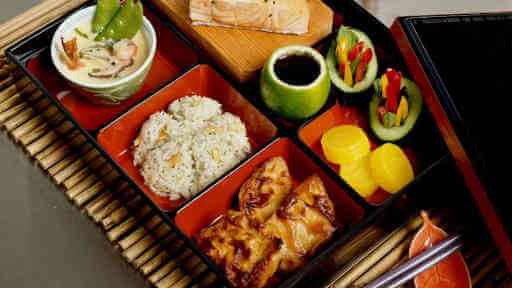 Here We Have Healthy, Fun, and Easy Bento Box Recipes:
Make these healthy bento box recipes part of your lunch and be a bento box expert in no time!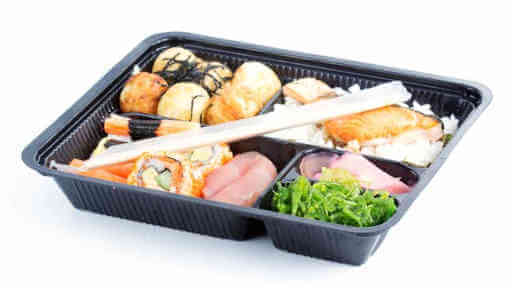 Ingredients
2 peach slices
2 thin slice prosciutto (cut them in 6 pieces)
2 tablespoon cooked cheese tortellini
½ cup diced carrot
½ cup corn
6 mozzarella balls
Chopped basil
1 tablespoon vinegar
2 tablespoon grated parmesan cheese
7-8 cherries
1 tablespoon sunflower seeds
2-5 mini bell pepper
Process
Step 1:
Take small skewers of about 4 inches. Now place peach slice, prosciutto slice, and mozzarella ball alternatively in the skewer. Pack them according to space in your bento.
Step 2:
Take a medium bowl and toss tortellini, basil, carrot, parmesan, and vinegar. Put the concoctions in a medium divider.
Step 3:
Place mini-peppers, cherries, and sunflower seeds in small compartments.
How to Choose the Right Bento Box with Right Container:
These days, bento boxes are designed in a plethora of sizes, colors, shapes, and materials. However, it is advisable to consider a few parameters while choosing the best-fitted bento box for your lunch.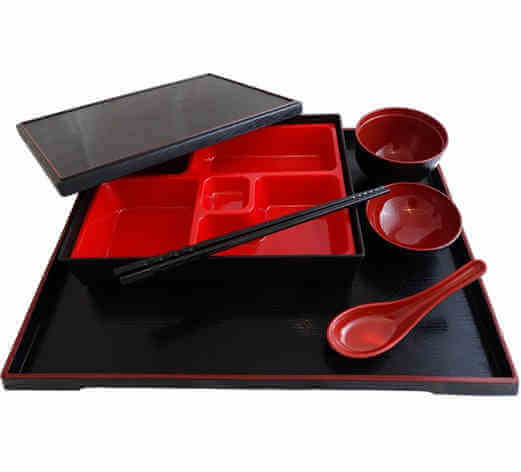 Pay attention to storage space: Before investing in bento boxes first consider the type of lunch you will be packing in them. There are bento boxes with stacked compartments as well as Bento with one layer. Check for the room in the container if you are planning to pack sandwiches or wraps. It is crucial to plan for the food being served in bento to avoid future inconvenience.
Buy Container As Per Food Requirement: Yes! If you want to pack liquid stuff like watermelon then go for bento which is spill-proof and has a secure lid. Additionally, to keep the food fresh for a long time buy bento boxes with air-tight secure lid and sturdy.
Keep A Check On Dividers- Bento boxes have small dividers or compartments which abets in keeping the food organized. Thus for packing sauces or hummus and spreads look for Bento with good compartments.
Have A Look At The Food Perfect For Bento Boxes
As said earlier, a food stuffed in bento can be consumed without heating at room temperature. Thus all you need is to prepare a meal that can be relished cold. Here is the list of items you can use to make your rainbow bento box:
Eggs: Boil eggs and make some egg salad. A perfect healthy no-spill food for lunch.
Cooked Vegetable: Steam your favorite veggies, add some pepper and salt. Pack in bento to open, dig, and enjoy!
Punch Of Proteins: Toss the salad with some vegan protein such as chickpea and lentils.
Antioxidants Fruits: The best way to make bento super creative is playing with any fruit; berries, grapes, avocado everything will work for bento boxes. Plus, it's a fun way to add vibrant color to your meal which looks, feels, and tastes super nutritious.
Space for snacks: Add texture and value to the meal by mixing some nuts, seeds, and pretzels in the bento box.
Pair Some Dips: Whip some hummus, peanut butter, and almond butter with chopped veggies for a delicious taste.
Check here for more Bento box recipes.