Bottle gourd is a very common and favorite vegetable in this subcontinent. It is known as a cool vegetable. Its specialty is that you can eat every part of the bottle gourd. You can cook bottle gourd's skin, bottle gourd fruit, and bottle gourd's leaf. If you want, you can cook bottle gourd's baby seed as well. Even when the bottle gourd ripe then you can use its skin for making a musical instrument whose name is "dugdugi". We can cook many ways of bottle gourd. In a lot of items, the bottle gourd curry recipes with the prawn are one of them.
Bottle Gourd Curry Recipes With Prawn
Bottle Gourd Curry recipes with Prawn is a very popular fruit vegetable, commonly known as "Lau curry" in Bangladesh. There are some folk songs about this curry explaining its deliciousness. It is available in most parts of India, Bangladesh, Nepal, and some parts of China. The curry matches well with plain rice, naan-roti, and chapatti or tortilla.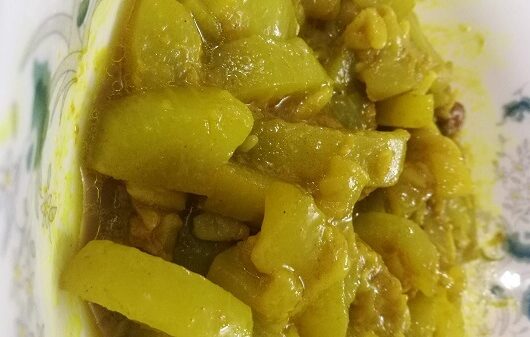 The cooking of Bottle Gourd Curry is so easy that those new adventurers can start with this type of menu. It is even tasty without mixing any other item, except a few common spices. However, to add extra taste prawn or other small fishes may be added to it.
| | |
| --- | --- |
| Preparation time | 15  minutes |
| Cooking time | 25 minutes |
| Total time | 40 minutes |
| Servings | 8 |
Ingredients for bottle gourd curry recipes:
1 kg green bottle gourd
100g small size prawn
50g potato
2 tablespoon cooking oil
1 piece onion slices
1 teaspoon cumin powder
5-6 pieces green chili
1 teaspoon garlic paste
1 teaspoon turmeric powder
½ teaspoon coriander powder
1 tablespoon salt
1 tablespoon coriander leaves, sliced
Process
Remove the skin of the bottle gourd and cut into 2"X ½" slices. Use a sharp knife for cutting. You can check the local market or Amazon for the best quality knife. This a very important tool for our regular kitchen life.
Remove the skin from the potatoes (if the potato is new then you can keep the skin) and cut into the same size of bottle gourd's pieces.
Clean the prawns.
Heat oil in a nonstick cooking pan.
Fry cleaned prawns on cooking oil and add one pinch turmeric powder and salt.
Take out the prawns when half fried. Keep aside.
Add slices of onion to oil and fry until the color is brown.
Take out some bit of beresta (fried onion, brown color).
Add garlic paste, cumin powder, coriander powder into the remaining hot oil in the pan.
After 1 min put one-cup water in the mixture of boiled spices. Usually, when the bottle gourd is a baby, then I never use extra water for cooking bottle gourd. Because bottle gourd has its own water.
When the spicy water is bloomed, put all bottle gourd and potato slices and cover with a lid.
After 5 minutes stir and add prawns, green chili, and again cover for another 5 min. Add coriander leaves after 4 minutes.
After the cooking is over, take the curry in a dish and put some bit of beresta on top. Try to cook on an induction cooktop. This is very safe for cooking.
Bottle gourd curry is ready and serves it with white rice, nan-roti, or chapatti. This recipe is healthy and easy to cook.
Is bottle Gourd Skin Edible?
Yes bottle gourd skin is edible.
If you like my bottle gourd curry recipes with prawns please share this recipe with your family and friends. I love to cook and like to share my delicious food recipes with my beloved friends.
             Nutrition Facts: Amount per serving
Calories
375
Total Fat
29.7g
Cholesterol
97mg
Sodium
5737
Potassium
241mg
Total Carbohydrates
5.7g
Protein
24.4g
Nutrition Grade
C+
                          Nutrition Analysis
 
Good Points
Bad Points
Very low in sugar
Very high in sodium
*Happy Cooking*