Last Updated on November 23, 2021 by Sultana Parvin
 "Butter Chicken Recipe" also known as "Makhani", is a well-known curry-based chicken Indian dish and found in most Indian restaurants around the world. You will love how simple it is to make and, later, how it tastes.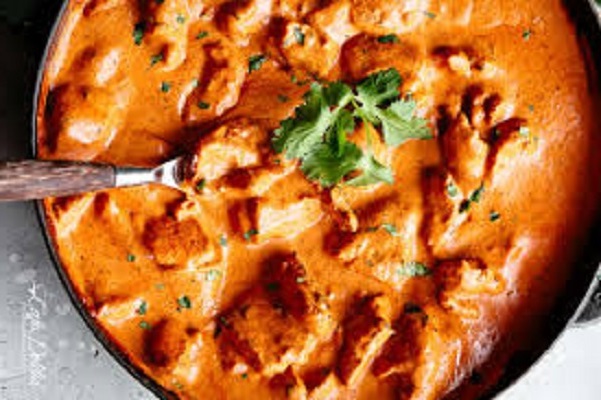 Why is it called Butter chicken?
Butter chicken existence is dated as far back as the 1950s, and it has its origin in Punjabi, North India. It is a common food that tastes great with black lentils (kaali daal), green salad and leavened-tandoor-baked Indian flatbread (naans).
Different people and restaurants make a series of foods that they called "Butter Chicken" and some of them add raisins, food coloring, and ketchup to their dish. This, therefore, makes it essential for you to know the taste, smells, and how the original Butter Chicken as I called it looks like to distinguish perfectly and also aid you in your cooking.
Butter chicken got its sweet and unique flavor form recipes such as yogurt, tangy tomatoes, and dried fenugreek (Kasuri methi). There are two ways you ways of making butter chicken. It can either be made as hot or mild based on your preference, and this gives it an edge among other foods to suit most palates.
The recipes may be a little bit much, but not to worry, they are things you can easily get in any Indian market near you. Oh! You're excited to get down to business and master the art of cooking "Butter Chicken" (Makhani).
Let's get down to business. It's time to cook this sumptuous meal.
Before we get on to cooking the meal, let's quickly talk about the ingredients needed to make the delicious "Butter Chicken." This is to ensure we have every ingredient in place before we embark on this great journey.
Ingredients for butter chicken recipe
Note: There are two stages of Marinade processing.
For the First Marinade
2 1/4 pounds boneless chicken (remove skin)
1 lime (or lemon, juiced)
Salt (to taste)
1 teaspoon red chili powder (fine-tune to suit your taste)
For the Second Marinade
1 cup fresh unsweetened yogurt (Ensure it's not sour)
2 teaspoons ground coriander
1 teaspoon ground cumin
1/4 teaspoon ground turmeric
Cooking ingredients
3 tablespoons of vegetable oil
2 onions (chopped finely)
2 teaspoons garlic paste
1 teaspoon ginger paste
1 (14-ounce) can chopped tomatoes (ground it in a food processor to become a smooth paste)
2 cups chicken stock
2 tablespoons Kasuri methi (dried fenugreek leaves)
3 tablespoons butter
Garnish: Coriander (cilantro) leaves
For the Spice Powder
6 cloves
8 to 10 peppercorns
1-inch stick cinnamon
2 bay leaves
8 to 10 almonds
Seeds from 3 to 4 pods cardamom
How to make Butter chicken
This is an essential stage. Ensure to follow the instruction judiciously.
Marinating the chicken
Put your chicken in a large nonmetallic bowl and sprinkle salt, lime juice, and the red chili pepper on it.
Cover and allow it to marinate for about an hour.
Making the spice powder
Put the cloves, peppercorns bay leaves, cinnamon, and almonds in a flat pan or skillet over medium heat and constantly stir until it darkens a little.
Let it cool and add cardamom seeds.   
Marinating the chicken the second time
Just like the first stage, mix the marinated chicken with the spices (salt, red chili pepper, and lime juice), turmeric, ground coriander, and yogurt.
Cover and allow it to marinate for another hour.
Butter Chicken Preparation
Add sliced onions and fry for a minute
Once the onion turns to a pale golden brown color, add your ginger and garlic and fry for 1 minute.
Add your chicken to it and fry until the chicken turns opaque and the color becomes whitish.
Note: reserve some of the yogurt-spiced marinades.
Then add Kasuri methi, grounded tomato, chicken stock, and the reserved yogurt-spiced marinade.
Allow it to boil until the chicken becomes soft and the volume of the gravy is reduced to half its original size.
Put the butter in another pan and heat until it melts
Add the melted butter to the chicken and stir a little.
Have a feel of it to ensure it suits your taste
Cook for another 5-10 minutes until it thickened.
Garnish it with coriander leaves
Then serve with either naan (leavened-tandoor-baked Indian flatbread) or kaali daal (black lentils)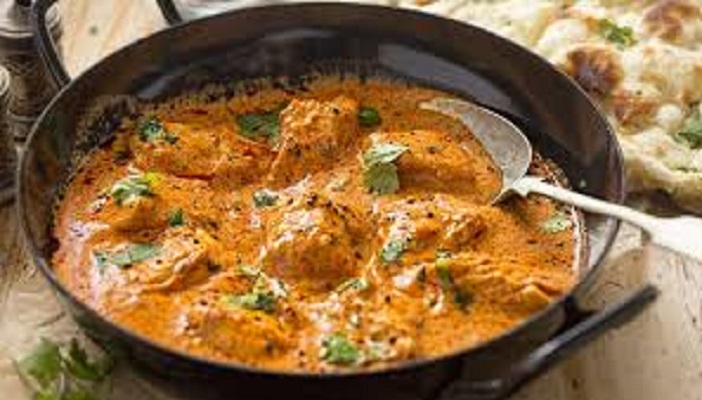 Now you have your fantastic and delicious Butter chicken also known as Makhani. It's not hard to prepare if you follow the steps above. The essential thing is using all necessary ingredients and following the preparation process judiciously.
If you're able to do this, then be certain of being a master in preparing a sumptuous and delicious "Butter Chicken" meal.