Recipe Of Beef Steak
Beef is such a widely used food item. It makes many different dishes in many different forms. In this recipe, the minced form of beef is used to make the dish. This is rather common in other regions, particularly, wherever; the minced beef minced beef steak is used inside the burger. The minced beef steak is also called as Kabab, in some placed, which is a bit smaller and not used as filling inside the burger.
The most part of the steak is pure beef in minced form and mixed with egg and breadcrumb, it gives a very delicious taste. Therefore, many beef lovers like to eat the steak with sauce or salad. For someone, the steak may fit sandwich or burger as filling. However, it is tasty and everyone like beef must love it whether or not with or without a sandwich or burger.
| | |
| --- | --- |
| Preparation time | 15 minutes |
| Cooking time | 15 minutes |
| Total time | 30 minutes |
| Servings | 8 |
Ingredients for beef steak
250 gm minced beef
1 teaspoon green chili, sliced
1 egg
2 pieces of bread
1 teaspoon salt
1 teaspoon black pepper powder
½ cup breadcrumb
1 tablespoon oil
1 teaspoon garlic paste
½ teaspoon hot spice powder
1 teaspoon ginger paste
½ teaspoon sugar
1 tablespoon onion, fried
1 tablespoon coriander leaves, sliced
Process for beef steak
Soak bread and drain out water by pressure with hand.
Mix bread, eggs, ginger paste, garlic paste salt, breadcrumb, black pepper, fried onion, green chili slice, coriander leaves slice, and hot spice powder with minced beef.
Make a round shape steak.
From this amount of mixture make 8 pieces of steak.
Heat oil in a pan and shallow fry each steak over medium heat until brown. If you have air fryer use this for frying steak. It is very healthy for us.
Tasty homemade steak is ready to eat.
Serve with homemade french fry or bun and homemade tomato sauce.
             Nutrition Facts: Amount per serving
Calories
159
Total Fat
3.8g
Cholesterol
0mg
Sodium
592mg
Potassium
628mg
Total Carbohydrates
27.1g
Protein
4.6g
Vitamin A
11%
Calcium
2%
Vitamin C
72%
Iron
2%
Homemade beef steak burger
| | |
| --- | --- |
| Preparation time | 15 minutes |
| Cooking time | 0 minutes |
| Total time | 15 minutes |
| Servings | 4 |
Ingredients for homemade burger
4 pieces of beef steak
4 pieces bun
Cheese slices (4 slices)
Lettuce leaves
8 piece tomato slices
8 piece cucumber slices
2 tablespoon mayonnaise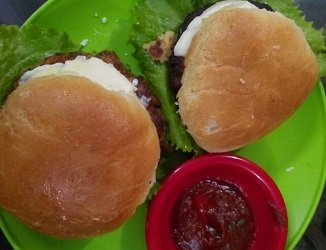 Process for burger
Cut the buns through the middle.
Spread mayonnaise in the lower part of the bun.
Place lettuce leaves, cucumber slices, and tomato slices over the mayonnaise.
Place steaks over the vegetable slice and put cheese slice over the steak.
Cover with top part of the bun.
Put one toothpick in the middle of the bun so that burger cannot open.
Your tasty homemade beef steak burger is ready to serve.
Serve the burger with homemade tomato sauce.
If you like my recipe of beef steak and homemade burger recipe please share the recipe with your family and friends.
I love to cook and like to share my delicious food recipes with my beloved friends.
             Nutrition Facts: Amount per serving
Calories
322
Total Fat
16.8g
Cholesterol
107mg
Sodium
292mg
Potassium
328mg
Total Carbohydrates
7.1g
Protein
33.6g
Vitamin A
6%
Calcium
2%
Vitamin C
21%
Iron
92%
Recipe by Sultana
*Happy Cooking*