Birthday is always a special day for every person. If you make a delicious birthday cake at home for your special one I am sure that the day becomes more special for him or her. I always try to make the day special for my beloved family members. Though making a birthday cake is time-consuming and not so simple, yet when you will see the smiling face of your beloved one that will make you very happy and you will forget all the hard work.
Three main phases of work are involved while making a delicious birthday cake. Those are: Baking the main cake, preparing the buttercream and making the whipped cream. In this recipe, I have discussed the three phases separately. I also made this cake without using baking powder. Believe me, the taste of the cake was delicious and different.
| | |
| --- | --- |
| Preparation time | 2 hours |
| Cooking time | 45 minutes |
| Total time | 2 hours 45 minutes |
| Servings | 24 |
Ingredients for the delicious birthday cake
For cake
300gm (6 pcs) eggs
125 gm sugar
130 gm all-purpose flour
20 gm corn flour or corn starch
1 teaspoon vanilla powder or 3-4 drops vanilla essence
1 teaspoon cake improver gel
2 tablespoon vegetable oil
1 pinch salt
½ cup sprite or sugar water
For frosting
Whipped Cream
Ingredients for whipped cream
1 packet Whipped cream
230 ml cold milk
3-4 drops vanilla essence
 Process
Take cold milk in a deep bowl.
Add whipped cream powder to the milk.
Beat with an egg beater with high speed.
Add vanilla essence to the mixture after 1 minute.
Beat the mixture for 4-6 minutes or until fluffy.
Keep it in the refrigerator.
Buttercream
Ingredients for buttercream
2 eggs white
400 gm butter (at room temperature)
200 gm icing sugar
4-5 drops vanilla essence
 
Process
Take the egg white in a deep bowl.
Beat with an egg beater at high speed for 4-5 minutes or until it turns into foam.
Add icing sugar to the egg's foam and beat until it mixed well.
Then add butter to the mixture and beat.
Add vanilla essence after 2 minutes and beat again until it turns into a cream.
Keep it in the refrigerator.
 Process for delicious birthday cake
At first, take sugar in a deep bowl. Add egg one by one into the sugar and beat with an egg beater at high speed.
Beat at least 5-6 minutes or until the mixture becomes fluffy.
Add cake improver gel to the egg mixture and beat with high speed.
Now you will see the magic. The color will turn into yellowish.
Add salt to the mixture and again beat.
After that add vanilla powder or essence (whatever you have) to the mixture. Try to use vanilla powder. Remember, most renowned bakery shops use vanilla powder instead of vanilla essence.
Then add cornflour to the egg mixture at medium speed.
And add all-purpose flour to the mixture at low speed.
Add oil to the flour mixture very smoothly with low speed.
Grease a spring form cake pan or mold with butter or oil and place a baking sheet or tracing paper into the mold. You can use the spray for greasing the mold.
Preheat the oven to 200°c for 10 minutes.
Put the batter into the mold and bake at 160°c for 40-45 minutes.
Check the cake inserting into a stick in it. When the stick comes up clean then switch off the oven.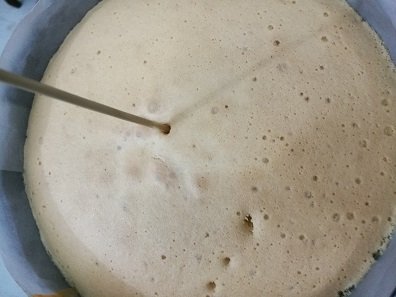 Take out the cake from oven and keep it for cooling.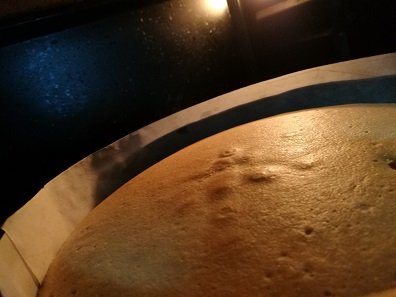 Slice the cake into 3 pieces.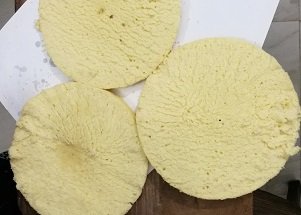 Lightly spread liquid sprite on both sides of all three pieces of cake.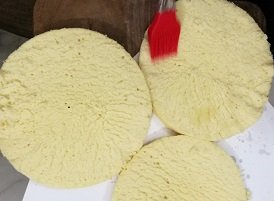 Now place the first piece of cake on a cake turntable (if you don't have a cake turntable you can use a flat plate or cutting board what is available to you).
Put whipped cream over the cake slice and place another piece over the whipped cream. Follow this process by putting all three layers of baked cake.
Rest it for cooling in the refrigerator.
After cooling apply icing with buttercream and design the cake as you like.
Your delicious birthday cake is ready for display.
Present the cake to your beloved one and make him or her surprised.
             Nutrition Facts: Amount per serving
Calories
280
Total Fat
21.8g
Cholesterol
99mg
Sodium
128mg
Potassium
35mg
Total Carbohydrates
20.1g
Protein
2.6g
Vitamin A
24%
Calcium
3%
Vitamin C
0%
Iron
3%
If you like my delicious birthday cake recipe please shares my recipe with your family and friends.
I love to cook and like to share my delicious food recipes with my beloved friends.
*Happy Cooking*
Recipe by Sultana