The Salad is a tasty side dish, which is used to eat other main food. Usually, salad is made from a combination of 3 to 4 types of vegetables, where cucumber is a very common salad ingredient. Here in this recipe cucumber is the only vegetable, wherein yogurt and two types of sauces, with black pepper and chilies, are added. This side dish is mostly used to eat chicken grill and hereinafter named as the grill salad recipes.
Preparation of grill salad is very simple. It is also slicing the cucumber and missing with other ingredients. Here I described 2 grill salad recipes, hope all of my friends will like these two salad recipes.
Grill salad recipes with shrimp
| | |
| --- | --- |
| Preparation time | 10 minutes |
| Cooking time | 10 minutes |
| Total time | 20 minutes |
| Servings | 4 |
Ingredients for grill salad
1 tablespoon lemon juice
1 tablespoon honey
½ cup of orange juice
1 teaspoon mustard powder
½ teaspoon salt
½ teaspoon black pepper, ground
1tablespoon olive oil
1 tablespoon onion, sliced
200gm shrimp, peeled and deveined
1 cup spinach, sliced and boiled
Process for salad
To prepare the salad dressing, combine orange juice, lemon juice, mustard powder, salt, pepper, olive oil, and honey in a bowl. Whisk the mixture until blended.
Wash and peel the shrimp. Devein them.
Add 1 tsp salad dressing to the shrimp and let stand for 10 minutes.
Wash and cut the spinach into your 2×3 inch size.
Boil the spinach for 2 minutes. Rinse and drain. Keep it aside.
Heat a non-stick frying pan over medium heat.
Add shrimp and cook until pink, about 2 minutes.
Remove shrimp from the pan and keep it aside.
In a large bowl combine shrimp, spinach, and onion slice.
Add salad dressing and toss gently to coat.
Yummy grill salad recipes with shrimp are ready to serve.
Serve the salad any kind of grill item.
             Nutrition Facts: Amount per serving
Calories
71
Total Fat
3.8g
Cholesterol
5mg
Sodium
304mg
Potassium
128mg
Total Carbohydrates
7.1g
Protein
1.6g
Vitamin A
14%
Calcium
2%
Vitamin C
50%
Iron
2%
Grill salad recipes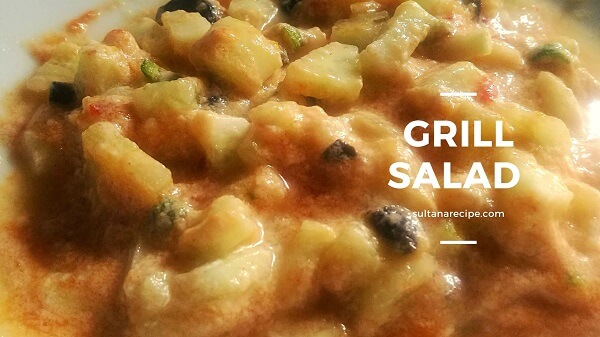 | | |
| --- | --- |
| Preparation time | 10 minutes |
| Cooking time | 5 minutes |
| Total time | 15 minutes |
| Servings | 6 |
Ingredients for recipes
2 small size cucumbers
½ cup yogurt
1 tablespoon tomato sauce
1 tablespoon chili sauce
2 green chilies
1 teaspoon sugar
1 teaspoon black pepper powder
½ teaspoon salt
Process for sala

d
Peel the cucumber.
Slice cucumber by salad cutter and thin pcs (Julienne cut).
Mix tomato sauce, chili sauce, sugar, and black pepper.
Add cucumber slices and green chili slices, and bit gently.
Your tasty grill salad is ready to eat.
Serve the salad in a nice salad dish.
If you like my grill salad recipes please share these recipes with your family and friends.
I love to cook and like to share my delicious food recipes with my beloved friends.
             Nutrition Facts: Amount per serving
Calories
23
Total Fat
.8g
Cholesterol
1mg
Sodium
292mg
Potassium
128mg
Total Carbohydrates
3.1g
Protein
1.6g
Vitamin A
1%
Calcium
5%
Vitamin C
6%
Iron
1%
Recipe by Sultana
*Happy Cooking*