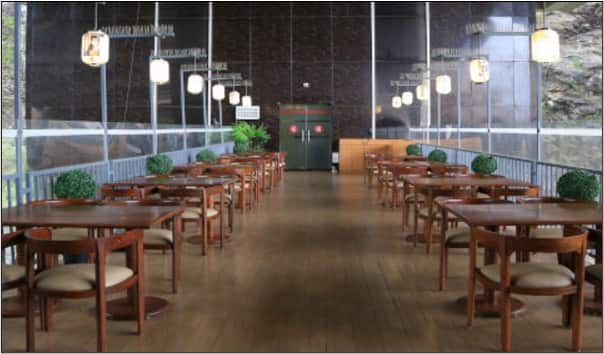 Last Updated on October 23, 2023 by Sultana Parvin
Korean cuisine has experienced a remarkable surge in popularity within the bustling city of Mumbai, mirroring the global trend of increasing interest in Korean flavours and culinary traditions. From Japchae's savoury allure and kimchi's tangy kick to the comforting warmth of samgyetang, there's no shortage of mouthwatering options to tantalize your taste buds. However, when it comes to Korean gastronomy, one must recognize the sensational experience of Korean barbecue. Whether you're a devoted lover of Korean food or a curious newcomer eager to explore this delectable world, Mumbai offers many options. This vibrant metropolis hosts an impressive collection of Korean restaurants in Mumbai and takeaways, each with its unique charm and authenticity. Join us on a culinary journey through Mumbai as we explore the finest Korean eateries and takeaways, highlighting their distinctive offerings and ambience.
Five Best Korean Restaurants in Mumbai
BUSAGO
Busago is a restaurant with a pleasant dining environment and a charming and inviting ambience. The restaurant is known for its courteous and attentive staff, ensuring a satisfying dining experience with prompt and accommodating service. It excels in serving Burmese and Korean cuisines. As you take your first bite of the Sticky Veg Bomb, a burst of sweet and savoury flavours dances on your taste buds. The Non-Veg Spicy Chilli Noodles delivers a satisfying and fiery kick, combining meats and noodles for a bold experience. The Chicken Momos are a pleasant surprise, with tender, flavourful dumplings. Salt N Pepper Chicken brings classic flavours to succulent chicken. 
Indulge your sweet tooth with lemon pie, cupcakes, and chocolate cakes that are visually appealing and scrumptiously satisfying. Nimbu Paani, a refreshing lemon drink, quenches your thirst and revitalizes your palate. Busago offers a convenient takeaway service for those on the go so that you can enjoy their offerings anywhere. It's an accessible choice for those looking to explore these cuisines in Mumbai.
CHEF JAMES JAPANESE KITCHEN
Here, you can explore the delectable recipes and ingredients of Japanese and Korean cuisines. The restaurant offers a convenient food delivery service, making it even more enticing. Your journey begins with the Tonkotsu Ramen; the first bite is a revelation. The noodles are perfectly cooked, and the broth envelops your taste buds in a comforting, flavourful embrace. Moving on to the Jajangmyeon, a Korean favourite, you savour the savoury flavours and the delightful blend of textures. Each bite leaves you craving more of this harmonious dish. 
A delightful surprise awaits with the Prawns Bbimbap, where every mouthful offers a symphony of flavours and textures, creating a dynamic and satisfying experience. The Chicken Bbimbap follows suit, pleasing your palate with its vibrant flavours and the artful balance that defines Korean cuisine. And then there's the Tori No Teriyaki Donburi, where the sweet and savoury teriyaki sauce beautifully coats the chicken, delivering a comforting and satisfying dish. These dishes offer an excellent taste experience. With a client rating of 4.5 on Google, CHEF JAMES JAPANESE KITCHEN, one of the finest Korean restaurants in Mumbai has garnered positive reviews, reflecting its popularity among diners.
HENG BOK
The restaurant's convenient location makes it easy to find, and it's no surprise that most visitors commend the competent staff. The fast service at Heng Bok reflects the high quality they aim to deliver. The Prawns Barbeque is a revelation. Each bite reveals the smoky, grilled perfection of the prawns, with a burst of flavour that's simply tantalizing. The Fish Barbeque is a succulent delight, with the fish infused with those signature barbecue flavours. But what steals the show are the Chicken dishes. The Mandu Guk Chicken offers a medley of flavours and textures that dance on your palate. It's an unforgettable experience. 
The Teotguk Chicken is equally impressive, with its mouthwatering blend of ingredients that leaves you wanting more. To accompany your meal, there's a selection of beverages. Adding to the appeal, prices here are quite reasonable, making it an attractive option for those seeking an authentic Korean culinary experience.
The ambience and decor are pleasant, enhancing your overall dining experience. Heng Bok also caters to online delivery services.
PINK WASABI
This restaurant's menu is a haven for Korean cuisine enthusiasts, and it offers a variety of enticing dishes. As you peruse the menu, the Prawns Tempura Maki Sushi stands out. With each bite, you experience a delightful fusion of flavours, textures, and the subtle hint of truffle in the Salmon. The explosion of tastes is simply exceptional. The Japanese Chicken Katsu Curry is a culinary masterpiece. The crispy, golden chicken cutlet bathed in a rich, aromatic curry is a heavenly combination that's hard to resist. For something more pan-Asian, the Pan pan-fried noodles with Vegetables Tossed in Hunan Sauce provide a harmonious blend of flavours, with the vegetables and sauce creating a savoury symphony. 
Dumplings, with their delicate wrappers and flavourful fillings, offer a delightful side to your meal, while the tasty Miso Soup adds a comforting touch. Good service is a priority here and adds to the overall positive impression. While the restaurant boasts low prices, making it an attractive choice for Korean cuisine lovers in Mumbai, the lovely decor and the cool atmosphere create a relaxed setting perfect for unwinding after a day of exploration. Despite mixed reviews, Pink Wasabi remains a destination for Korean cuisine enthusiasts in Mumbai.
BOWL BABY BOWL
As you stroll near the linking road, Bandra West, visit this gem of a restaurant. Before diving into your main course, save room for the mouthwatering appetizers. The Teriyaki Greens are a perfect blend of sweet and savoury, offering a refreshing start to your meal. Try the Crispy Lotus Root for a unique, crunchy experience, and indulge in the Char Siu Pork Stir Fry, a flavourful masterpiece. Don't miss the chance to savour the exquisite flavours of Paneer Korean Bibimbap Rice Bowl – each bite is a delightful journey through Korean cuisine. 
The Pork Nemos Seoul Bowl will transport your taste buds to a savoury wonderland you won't want to leave. Try the Panang Curry Rice Bowl with Tofu for a change from your usual fare. The rich, aromatic flavours will leave you craving more. The Sesame Chicken Spring Roll is a crispy, flavourful delight that's hard to resist, and the Dynamite Prawns will leave a spicy, explosive impact on your palate. If you are not an outgoing person, you can order the food through an online platform.
Summary 
You'll find various options to satisfy your culinary cravings when exploring Korean cuisine in Mumbai. These Korean restaurants offer diverse and delectable menus, providing a delightful journey through the flavours of Korea. For added convenience, you can explore these delectable dishes through food delivery in Mumbai from Swiggy, making it easier than ever to savour the tastes of Korea from the comfort of your home. Whether you're a seasoned fan of Korean cuisine or a curious first-timer, Korean restaurants in Mumbai promise a flavourful and satisfying experience.