Orka is called "Lady Finger" in many English-speaking countries. It is a healthy and common vegetable. It has very good benefits for health. We know nowadays diabetes is a common disease, okra is good for controlling diabetes. So if you know different okra recipes you will not be bored by the okra. Here I have described two okra recipes which are quick and easy recipes to cook.
Some of my friends requested me for a microwave oven recipe. These two recipes are for my friends who want to cook with a microwave oven. Lets enjoy cooking.
Okra boiled recipes
| | |
| --- | --- |
| Preparation time | 10 minutes |
| Cooking time | 5 minutes |
| Total time | 15 minutes |
| Servings | 4 |
Ingredients for okra boiled recipes
500g Okra, cut into 2-3 inch size
1 cup of water
2 tablespoon olive oil
1 teaspoon salt
½ teaspoon black pepper, powder
Process
Wash and cut okra.
Take an oven-proof deep dish.
Pour water and put it into the oven.
Boil water at high power for 2 minutes.
Add okra to the boiling water and boil with salt water for 3-5 minutes.
After boiling, drain out water.
Add olive oil, black pepper with okra, and simmer it for 1 minute.
Serve okra boiled while still warm.
Okra recipes with prawn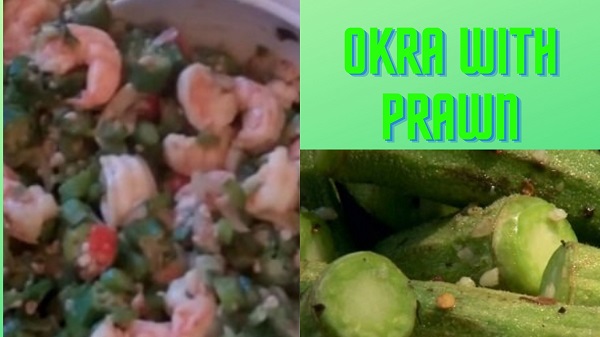 | | |
| --- | --- |
| Preparation time | 10 minutes |
| Cooking time | 8 minutes |
| Total time | 18 minutes |
| Servings | 4 |
Ingredients for okra recipes with prawn
500g okra
250g prawn
1 tablespoon onion, sliced
1/2 teaspoon garlic paste
½ teaspoon ginger paste
1 tablespoon oil
½ teaspoon salt
4-5 pieces green chili, sliced
1 tablespoon cilantro, sliced
Process
Wash okra and cut through the middle.
Remove the skin of prawns and wash. Rinse water very well
Take an ovenproof dish and add oil to the oven-proof dish.
Add onion slice, garlic paste, ginger paste to the oil.
Put the dish inside the microwave oven. Cook this at high power for 1 minute.
Add okra, prawns, green chili slices, and salt to the ingredients.
Cover the dish and cook the okra for 3 minutes.
Take out the dish after 3 minutes and turn over the okra and prawn.
Cook the okra for another 2 minutes without a lid.
Add cilantro slices to the okra.
Take out the dish from the oven and okra recipes with prawn is ready to serve.
Serve the dish with rice or tortilla or pulao.
If you like my okra recipes please share these recipes with your family and friends.
I love to cook and like to share my delicious food recipes with my beloved friends.
Recipe by Sultana
*Happy Cooking*