Sanjeev Kapoor is an Indian famous chef. He is a writer of cookbooks, restaurant consultant and a celebrity television presenter of the cooking show " Khana Khazana" and "Foodfood "  channel. "Khana khazana" is the longest cooking show (about 17 years) in Asia. This show is broadcasted in 120 countries and more than 2000 episodes.
Sanjeev Kapoor was born in Ambala, East Panjab, India in 1964. But he spent his childhood in New Delhi. He did his diploma in Hotel management. He runs more than one restaurant in the world. Kapoor has been more conscious and concerned about food-related diseases and has been cooking low-fat and healthy meals. He has a lovely family.
Sanjeev received a number of awards including Fourth Highest Indian National Award "Padma Shri."
He wrote 150+ cookbooks. Here are names of some books among those written by Sanjeev Kapoor:
Healthy Indian Cooking for Diabetes
How to Cook Indian: More Than 500 Classic Recipes for the Modern Kitchen
Simply Indian (English and Hindi Edition)
Sanjeev Kapoor's The Yellow Chilli Cookbook
Now, I am going to share with you 2 recipes of Sanjeev Kapoor. Hope you will enjoy it.
Recipes by Sanjeev Kapoor
Oats Chocolate Chip Waffle Recipe Card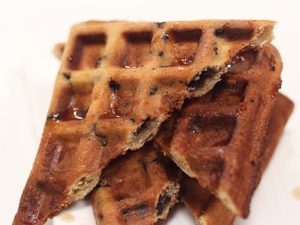 | | |
| --- | --- |
| Preparation time | 10  minutes |
| Cooking time | 15 minutes |
| Total time | 25 minutes |
| Servings | 4 |
Ingredients for Oats Chocolate Chip Waffle Recipe
1½ cup Rolled oats
½ cup Chocolate chips
1 tsp Baking powder
¼ cup Refined flour
½ cup Powdered sugar
2 Eggs
1 tsp Vanilla essence
Milk as required
2 tbsp Melted butter for greasing
Process for Oats chocolate chip waffle recipe
Step 1
Dry roast 1 cup oats, cool and grind to a fine powder.
Step 2
Sift flour and powdered sugar, one by one, into a bowl. Add oats powder, baking powder, and remaining oats and mix well.
Step 3
Make a well in the center and break eggs into it. Add vanilla essence and whisk well. Add milk, gradually and keep whisking until a smooth batter is formed.
Step 4
Add 2 tablespoons melted butter and mix well. Add chocolate chips and mix well.
Step 5
Heat the waffle iron. Grease with some butter, pour some batter into it, cover and cook for 2-3 minutes or until golden brown on both sides. Remove from the waffle iron and keep on a serving plate.
Step 6
Make more waffles similarly.
Step 7
Cut each waffle into small squares and serve immediately with maple syrup.
Crispy Chicken by Sanjeev Kapoor
| | |
| --- | --- |
| Preparation time | 10  minutes |
| Cooking time | 10 minutes |
| Marinated | 1 hour |
| Total time | 1 hour 20 minutes |
| Servings | 4 |
Ingredients for crispy chicken
250 gm chicken breast
3 tbsp flour
1 tbsp cornstarch
1 piece egg
2 tsp oil
½ tsp ginger paste
½ tsp garlic paste
1 tsp vinegar
½ tsp chili paste
½ tsp salt
1 cup corn flakes
Process for crispy chicken
Step 1
Take flour, cornstarch, ginger paste, garlic paste, chili paste, salt, egg, vinegar, and oil in a bowl. Make the mixture. Keep it aside.
Step 2
Cut the chicken pieces and marinated the chicken in the batter for 1-2 hour.
Step 3
Grind the cornflakes and Coat the chicken pieces with the cornflakes. Place the chicken pieces into the airfryer. Set the fryer at 180c for 10 minutes. Take out the crispy chicken from the airfryer.
If you like Sanjeev kapoor's recipes please share the recipes with your family and friends.
*Happy Cooking*