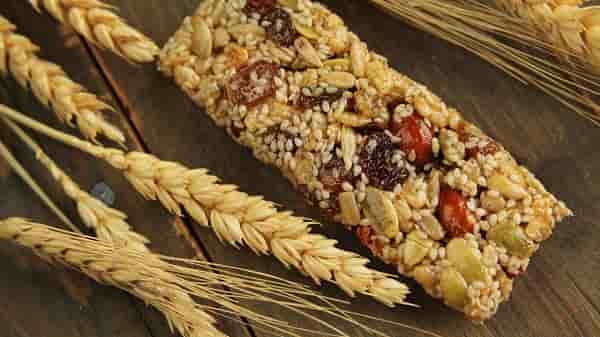 Sultana bars are a delicious and easy-to-make snack that combines the sweet, juicy flavor of sultanas with a crunchy, buttery crust. This recipe is perfect for those who love a sweet treat and want to enjoy a homemade snack that is quick to prepare and easy to enjoy. The sultana bars are sure to be a hit with the entire family, so get your baking hat on, and let's get started! This recipe is easy to make and requires only a few simple ingredients, making it a great option for anyone looking to make a sweet treat in the comfort of their own home.
Ingredients:
1 cup all-purpose flour
1/2 cup unsalted butter, at room temperature
1/2 cup sugar
1 tsp vanilla extract
1 cup sultanas
1 egg, beaten
1/4 tsp baking powder
1 cup almond, roasted
1/2 cup sesame seeds
How to Prepare Sultana Bars
Preheat your oven to 350°F (180°C). Line an 8×8 inch (20×20 cm) baking dish with parchment paper.
In a large mixing bowl, cream together the butter and sugar until light and fluffy.
Add the vanilla extract and beaten egg to the butter mixture and mix until well combined.
Add the flour, almond, sesame seeds, and baking powder to the mixture and mix until a dough forms.
Fold in the sultanas making sure they are evenly distributed throughout the dough.
Transfer the dough to the prepared baking dish and press it down firmly to form an even layer.
Bake for 20-25 minutes, or until the edges are golden brown.
Allow the sultana bars to cool in the baking dish for 10 minutes before slicing them into bars and serving.
These sultana bars are best served warm and can be stored in an airtight container for up to 3 days. To reheat, simply pop a bar in the microwave for 15-20 seconds, or until warm to the touch.
Sultana bars are a delicious and convenient snack that is perfect for any time of day. Whether you're looking for a sweet treat to enjoy with your morning coffee, a snack to take with you on the go, or a sweet dessert to end your day on a high note, these bars are sure to hit the spot. So why not give this recipe a try and enjoy the sweet and satisfying flavor of sultanas in a delicious, easy-to-make snack?
Tips about Sultana bars recipe
Here are some tips to help you get the best results when making sultana bars:
Use plump, juicy sultanas: The juicier the sultanas, the sweeter and more flavorful the bars will be. If your sultanas are dry, soak them in warm water for 10-15 minutes to plump them up before using them in the recipe.
Cream the butter and sugar well: The key to a light and fluffy sultana bar is to cream the butter and sugar together until light and fluffy. This will create a tender, crumbly crust that is the perfect complement to the juicy sultanas.
Use the right baking dish: A square 8×8 inch (20×20 cm) baking dish is the perfect size for this recipe, but you can also use a 9×9 inch (23×23 cm) dish if needed. Just keep in mind that the bars will be slightly thicker if you use a larger dish.
Press the dough evenly into the dish: It's important to press the dough evenly into the baking dish so that the bars cook evenly and hold together well when sliced.
Let the bars cool before slicing: Allowing the bars to cool in the dish for 10 minutes before slicing will help them firm up and hold their shape.
Store in an airtight container: To keep the bars fresh, store them in an airtight container and enjoy them within 3 days. If the bars start to dry out, simply pop them in the microwave for 15-20 seconds to refresh them.
By following these tips, you'll be able to make the perfect sultana bars every time!