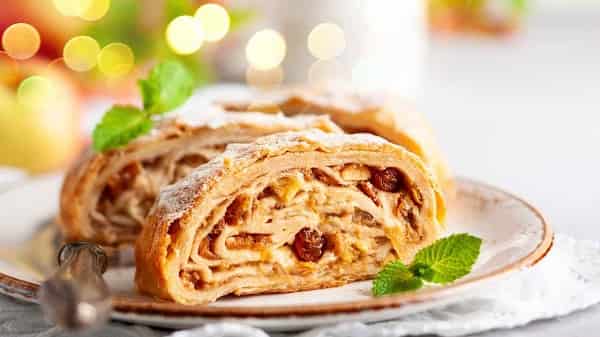 Sultana strudel is a traditional Viennese pastry made from a thin, flaky dough filled with sweet, plump raisins. This dish is a classic dessert that has been enjoyed for generations, and its simple yet delicious ingredients make it a perfect end to any meal. Whether you're a seasoned baker or just starting out, this easy-to-follow recipe is sure to impress. So, let's get started and bake up a batch of mouth-watering sultana strudel today!
Sultana strudel is a delicious, classic Viennese pastry that is loved by people of all ages. The result is a delicate, flavorful treat that is perfect for any occasion. If you've never tried sultana strudel before, you're in for a real treat. And if you're an experienced baker, this simple recipe is sure to bring back memories of your grandmother's kitchen.
Ingredients:
1 cup all-purpose flour
1/2 teaspoon salt
3 tablespoons unsalted butter
1/4 cup water
1 egg, beaten
1 cup raisins (sultanas)
1/4 cup sugar
1 teaspoon cinnamon
1 tablespoon breadcrumbs
1 tablespoon unsalted butter, melted
Powdered sugar, for dusting
How you can make this traditional dessert at home:
In a large bowl, whisk together the flour and salt.
Cut in the butter using a pastry cutter or your fingers until the mixture resembles coarse crumbs.
Gradually add the water, stirring until the dough comes together.
Knead the dough for a few minutes on a floured surface until smooth.
Roll out the dough into a thin, rectangular shape on a floured surface.
In a separate bowl, mix together the raisins, sugar, cinnamon, and breadcrumbs.
Spread the raisin mixture evenly over the dough, leaving a 1-inch border around the edges.
Roll up the strudel, starting from one of the short sides, and tuck in the ends to seal.
Brush the top of the strudel with melted butter.
Bake in a preheated 375°F oven for 25-30 minutes, or until golden brown.
Let cool for a few minutes, then dust with powdered sugar before serving.
Your sultana strudel is now ready to enjoy! Serve it warm with a cup of coffee or tea, or as a sweet finale to any meal. This recipe is sure to become a family favorite, so make it often and enjoy it!
Here are some tips to help you make the perfect sultana strudel:
Use a rolling pin to roll out the dough as thin as possible. The thinner the dough, the flakier the strudel will be.
Don't over-mix the dough. Over-mixing will result in a tough, dense strudel, so handle the dough as little as possible.
Use fresh raisins. Dried-out raisins will not be as flavorful or plump and may make the strudel dry.
Use high-quality cinnamon. A good cinnamon will enhance the flavor of the strudel and make a big difference in the final result.
Don't over-bake the strudel. The strudel should be golden brown, not dark brown. Overbaking will make the strudel tough and dry.
Dust the strudel with powdered sugar before serving. This will add a touch of sweetness and make the strudel look pretty.
Serve the strudel warm. The strudel is best eaten warm when the dough is flaky and the filling is gooey and flavorful.
By following these tips, you'll be on your way to making the perfect sultana strudel every time. Enjoy!