Turkish recipes are very famous worldwide. Turkish cuisine is rich with meat, kebab, and dessert recipe. Maqluba and Kurdan or Islim kebabi are two meat recipes from Turkish cuisine. These two recipes are common and famous as a Turkish recipe. Beef and eggplant are two common ingredients for these two recipes. This is a full meal recipe. You can make your dining table delightful with these two Turkish dinner menu recipes.
Do you like Turkish recipes?
Turkish cuisine is one of the most appetizing and rich cuisines of the world, and Turkish people are known to be quite passionate about food. Diversity and the full flavor make the Turkish cuisine worldwide famous which draws influences from its rich history and each region in the country today praises its own specialties. The richness of Turkish cuisine is based on several factors: Variety of products cultivated on the lands of Asia and A Anatolia, numerous cultural interactions in history, the palace kitchens of Seljuk and Ottoman empires and geographical conditions that shaped the character of Turkish culinary culture. Source: Turkish cuisine
Maqluba
Maqluba is a famous Turkish recipes. Few ingredients are required for this recipe and the process of the recipe is very easy. Anyone can cook this 'Maqluba' very easily.
| | |
| --- | --- |
| Preparation time | 1 hour |
| Cooking time | 2 hours |
| Total time | 3 hours |
| Serving | 10 |
Ingredients for Turkish recipes: Maqluba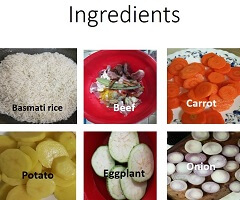 Process
Step 1
Boil beef with salt until tender. Cut onion, potato, carrot, and eggplant into round shapes. Fry lightly in oil.
Step 2
Take a nonstick saucepan and spread butter or oil on the bottom of the pan. Place onion slice over the butter so that it can cover the bottom of the pan. Then place potato, carrot, and eggplant slice layer by layer over the onion slices. Put half kg of rice over the vegetables and spread the rice. Then put boiled beef over the rice and cover the beef with the rest of the rice. Spread butter in between the rice. Add salt and hot water to the rice. Mind it, water should be 2 cm above the rice. Cover the pan with lid, cook the rice with a medium beam. After the rice is tender cook again with a low beam for 10 minutes.
Step 3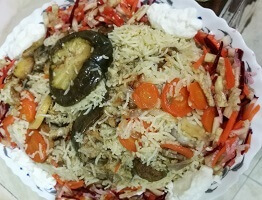 Take a big flat dish (rekabi) and turn the saucepan upside down. Place the rice in the middle of the dish. Finally, onion, potato, carrot, and eggplant will rise up. Decorate with salad and yogurt around the rice. Turkish women decorate the Maqluba like sunlight.
Turkish recipes with Egg plant: Kurdan or Islim kebabi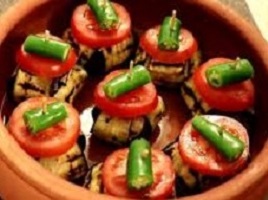 Kurdan or Islim kebabi is another famous Turkish recipes. The main ingredients of the recipes are eggplant and beef minced. It is a little bit tricky but tasty and delicious.
| | |
| --- | --- |
| Preparation time | 30 minutes |
| Cooking time | 30 minutes |
| Total time | 60 minutes |
| Serving | 8 |
Ingredients of Islim kebabi
½ kg minced beef
2 kg long eggplant
1 ½ kg tomato
2-3 capsicum
3 pieces onion
1/2 tablespoon dried chili powder
1 tablespoon black pepper
1 teaspoon turmeric powder
1 piece egg
1 tablespoon coriander leaves
1 tablespoon tomato puree
2 pieces of white bread
Process for Islim
Step 1
Cut eggplant into long slice. Add a bit of salt and fry it. Cut tomato and capsicum into sound shape.
Step 2
Take a bowl and put minced beef, dry chili, black pepper, turmeric, onion slice, and coriander leaves slice.
Mixed all ingredients very well. Soak bread piece with a little bit of water and grind it with palm. Add bread to the minced beef. Beat the egg and add to the minced beef mixture. Make small balls and fry it.
Step 3
Set fried eggplant in a cross way, like a plus sign. Put two meatballs at the center of the fried eggplant. Cover the balls with the other side and pass through a toothpick. Place one piece of capsicum and tomato over the eggplant and fix it with a toothpick.
Step 4
Add 2 glass of water and salt with 1 tbsp tomato puree. Cook it for few minutes. Spread this tomato puree over the eggplant and bake it for 30 minutes at 180°c.
Serve the hot kurdan kebab with Maqluba.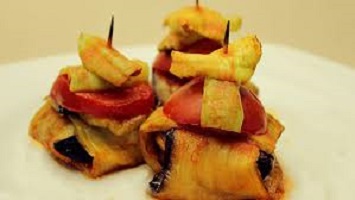 I love to and like to share my delicious recipes with my family and friends. If you like Turkish recipes please share the Turkish dinner menu recipes with your family and friends.
*Happy Cooking*