Recipe by Sultana
Prawn or shrimp is highly delicious and lucrative food stuff. It deliciousness can be increased if you can cook well with the recipe like prawn malai curry. The coconut shrimp curry recipe is practiced in South Asian countries particularly in Bangladesh, India, and Pakistan whereby flavor and attraction of the dish are increased.
Cooking of creamy prawn curry recipe does not need much time. It is an easy shrimp curry cooking, provided you follow the step by step adding the ingredients as mentioned in this recipe. The coconut curry shrimp can increase the attention and attraction of your guests if you serve the Indian prawn curry item in a family party.
| | |
| --- | --- |
| Preparation time | 20 minutes |
| Cooking time | 20 minutes |
| Total time | 40 minutes |
| Servings | 10 |
Ingredients for coconut shrimp curry recipe
1 kg shrimp (12-15 prawns in one kg)
2 tbsp garlic paste
1 tbsp ginger paste
1 tsp turmeric powder
3 medium onion slices
1 tsp red chili powder
1 tsp salt
2 tsp sugar
1 cup coconut milk
½ cup mustard oil
1 tbsp ghee (clarified butter)
1 cup Water
5-6 green chili
Process for coconut shrimp curry recipe
Step 1 for easy shrimp curry
Remove skin, legs, hairs, and dirt of prawns keeping about 1-2 inch skin at the tail part. Wash and keep the prawns aside.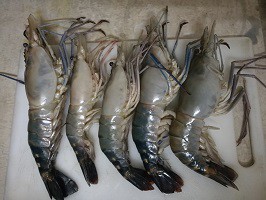 Step 2 
for easy shrimp curry
Heat the cooking pan on the burner. Try to take flat cooking pan like frying pan. Add mustard oil and heat it for one minute. Then add onion slices to the oil and fry it until tender. Add ginger paste, garlic paste, chili powder, turmeric powder, and salt to the onion mixture. Stir it for 2 minutes. Add one cup of water to the condiment mixture.
Step 3 
for easy shrimp curry
Put prawns after boiling the condiment mixture and stir gently. Keep on medium heat until oil comes out of prawns. Add coconut milk, green chilies, and a little bit of water.
Step 4 
for easy shrimp curry
Keep on medium heat for about 5-6 minutes. After the gravy is thickened add ghee, and sugar to the prawn mixture and cook for more one to three minutes.
Step 5 
for easy shrimp curry
When the gravy is equal to the prawns switch off the burner and take prawn malai curry with gravy to a serving dish.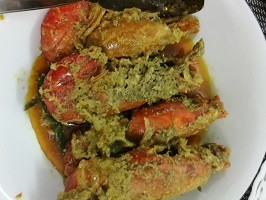 Serve coconut shrimp curry recipe with rice or pulao or itself.

I love to cook and like to share my delicious food recipes with my family and friends.
If you like my easy shrimp curry recipe please share the recipe with your family and friends.
*Happy cooking*