Last Updated on October 18, 2022 by Sultana Parvin
As an Amazon Associate I earn from qualifying purchases.
I use many types of kitchen appliances for my regular cooking. Here I will share my practical experiences with you. I read many articles about Philips air fryer reviews. I want to share the pros and cons of air fryers from my personal experiences with other reviewers' thoughts.
"People who love to eat are always the best people," said the American TV chef and great with Julia Child and that's true, when you're cooking a delicious meal it's easy to feel good about life. There are several kinds of kitchen appliances available in the entire world. All of them are unique from each other with their different price, size, brand, and working processes.
What is an Air Fryer?
It is a cooking machine for a healthy alternative to deep-fried cooking. We can fry, bake, and grill with this product. It works with hot air. Different sizes and dimensions of Air fryer available are available in the market.
Time needed: 12 minutes.
How to fry French fries in Air Fryer?
Step 1

Plugin the unit. Add 1 tablespoon of olive oil to the potato. Pull the pan out. Put the potato into the pan. Slide the pan back.


Step 2

Set the timer to cook for 12-15 minutes. Shake the basket after five minutes.


Step 3

After 15 minutes press the basket release button and lift the basket out. Add some salt and serve.
Philips TurboStar Technology Airfryer
The Philips TurboStar Technology Airfryer is the perfect solution for healthy, fast, and delicious meals and snacks. With its unique Rapid Air Technology, the air fryer fries, bakes, roasts, and grills with a tablespoon or less of oil, making it a perfect way to cook your favorite foods without sacrificing taste or texture. The innovative TurboStar rapid air technology swirls the hot air rapidly through the whole basket of the air fryer. No need to preheat the air fryer.
– Philips TurboStar Technology Airfryer cooks food more evenly for delicious results.
– No pre-heating is required, so you can cook your food in less time.
– The air fryer is easy to clean in just 90 seconds.
– The air fryer comes with a universal removable handle, so you can easily exchange accessories.
– The air fryer has detachable parts that are dishwasher safe.
Philips AirFryer Review: Is cooking with air fryer healthy?
Foods that are fried in the air fryer are healthier than deep-fried foods because they require less oil to produce a similar taste and texture.
We need a high amount of oil for deep-fried food, but an Air-fryer requires just a tablespoon of oil.
Deep-fried foods are higher in fat and calories. So they are helping to weight gain.
Air Fried Food can decrease the formation of harmful compounds.
Deep-fried food is associated with certain types of cancer. So that using an Air Fryer can reduce the risk of cancer.
How to cook or use of Philips air fryer
Let's go we start to know how to use an Air Fryer. At first, we'll make some French Fries using the Air Fryer. First, we have to prepare all the potatoes to fry. Air Fryer works with circulating hot air that contains fine oil droplets around the food to produce a crunchy, crispy fry.
First, plug in the unit. Then the power-on indicator lights up. Preheat Air Fryer to 200 degrees c.  Add 1 tablespoon of olive oil to the potatoes. Pull the pan out. Put the potatoes in, NB: don't fill past the maximum line. Also, the more space available there is in the pan, the crispier our food will be.  Slide the pan back. The pan is very hot so be careful and it's best to hold the handle. Now set the timer to cook for 12-15 minutes. Shake the basket a few times during cooking. After cooking, press the basket release button and lift the basket out. Add some salt to them while they're hot.
We can use this unit to reheat food. For this, we need to set the temperature to 180 degrees c and the timer for up to 10 minutes according to needs.
How to Clean Philips Air Fryer
How to clean Philips Air Fryer basket
For cleaning, we need to disconnect the Air Fryer from the current circuit and let it cool down.
Then wipe the outside with a damp cloth.
Wash the whole pan, tray, and basket with hot water and dishwashing liquid. We know all the Air Fryer's removable parts are dishwasher safe, so we can be placed them in a dishwasher if we would not prefer to wash them by hand physically.
After that, we have to clean the inside of the Air Fryer with hot water. We also use a cloth or sponge to wipe water.
There may be any food stuck in the heating area above the food basket. We have to clean it off with a brush.
Before setting these parts to the Air Fryer we have to sure that the pan, tray, and basket are completely dry.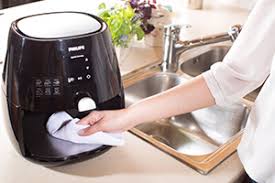 How to Use the Philips Air Fryer
The parts of the Air Fryer are made of a non-stick coat. So, we do not use utensils things to remove stuck food. We have to use always a non-abrasive sponge to remove any food stuck to the basket or the drip pan.
If the food has dried onto the pan and basket, then soak them in hot water and soap. Then this will soften the food and make it easy to remove.
If we're cooking consecutively then we can wait until the final batch has been completed before cleaning your air fryer.
Air fryer won't start: Before we call the manufacturer or repair service, we have to make sure the Air Fryer is plugged properly into an electrical board and that the electrical board isn't damaged. If then the problem remains the same the problem is maybe mechanical. So, how to solve it:
So now call a mechanic. They will be able to set up a repair or direct us to qualified repair service.
Storing the Air Fryer properly:
When our Air Fryer has been cleaned, we have to make sure that we store it safely. Wait at least thirty minutes for it to cool down and then put it away.
What are the pros and cons of Philips air fryers?
Some Pros of Philips Air Fryer
Time-saving
If we compare an air fryer with an electric oven, it takes less time than an electric oven. You can cook a small size pizza within 7-8 minutes.
Easy to handle
Normally an electric oven needs to keep in a fixed place. It is not easy to move an electric oven from one place to another place. Contrary, you can easily move an air fryer from one place to another and store it in a safe place after use.
Healthy food
You can fry all foods just with 1 tablespoon of oil. Some food you can cook without any oil. By using less oil it translates into a lower amount of fat in food. It is a very good appliance for healthy food lover friends.
Easy cleaning
All the parts of the air fryer are removable and dishwasher-free. So you can easily clean it. The main base unit can be wiped with a tissue or damp cloth.
Safe to use
The use of an air fryer is very safe. Even a little mature child can use it easily. There is no risk of oil burn or heat burn.
Different types of cooking
Different types of food can be cooked by an air fryer in different ways. You can bake, fry, roast, and grill by using the air fryer.
Cons
Besides many benefits, Air Fryer also has some disadvantages. Normally, these disadvantages or problems are very small and easy to fix. Some of the most common problems are:
Handle locking system
I have read many advantages and disadvantages of air fryer but nobody mentioned one of the most disadvantages of air fryer before. I faced this disadvantage on my first day of use of my air fryer. I was very excited after seeing my Philips air fryer. After checking all functions I kept it in my lap and going to place it on a shelf. When I was about to keep it on the shelf the main handle came out and fell to the floor. Then I found the handle broken. I can't imagine what I should do. I was shocked for a few minutes. Then I took the handle to a machine shop and repaired it. I realized that its' handle locking system is not very safe. It is on very practical disadvantage that I faced while using my air fryer.
Small capacity of food
If you want to cook food for 6-8 people using an air fryer, you need to cook several times. An air fryer is perfect for 2-4 person family members. It is not suitable for a family with more members or for a party.
Dryness of food
The fried food of the air fryer is less juicy than the fried food of the deep fryer. My kids told me the air fryer French fry is healthy but not tasty as much as deep-fried French fries.
Electric bill
Using the air fryer several times will end up in a larger amount of electric bill.
A food smell on the Air Fryer
Foods with different smells may leave a lingering order on our air fryer. How to solve it: The best way to reduce odors from the Fryer is immediately clean up after cooking. If the odor is still present then soak the pan and the basket in dishwasher soap for 30-60 minutes and clean it again. If it doesn't work again, then try cutting a lemon in half and rubbing it over the pan and the basket.
Bubbles or peeling on the inside of the air fryer
Air fryer components are covered with a non-stick coating. If we scratch the pan incorrectly or place the basket into the air fryer wrong then the heat from cooking may cause a bubble. Though the non-stick coating isn't harmful and doesn't create a health risk, so it won't poison our food. But if bubbles occur in the lining, How to solve it:
We should contact customer service and see if you qualify for a warranty replacement.
Difficulty sliding the pan into the Air Fryer
This problem normally occurs when a huge amount of food has been put into the basket. So, how to solve it:
So, try to remove some of the food and cook your meal two times.
Smoke coming out from the cooking pan
It is caused when too much grease collects in the bottom of the drip pan and starts to break down due to the heat. It may occur if we didn't clean the pan properly after use the last time, fortunately, the smoke won't cause any damage. So, how to solve it:
Just unplug the unit, let it cool, and clean out the grease.
Improperly cooked food
If our food is not cooked properly, the reason may be that we have put too much food in the cooking basket. Then the heat from the coil is getting absorbed by the food on the top. So, how to solve it:
Try cooking a small amount of food in the basket at a time. This causes better circulation and makes sure the heat is distributed evenly over our food.
Philips Airfryer Maintainance Tips
Besides regular cleanings, our Air Fryer requires some basic maintenance to make sure that it doesn't get damaged or start functioning incorrectly. This includes:
Never use a damaged or frayed cord. It can cause a serious accident or even death. Make sure the cords are dry, clean and damage-free before using our Air Fryer.
We have to make sure that the unit is clean and free of any debris. If we use it after a long time from last use then check inside carefully. Some dust may have been there.
The Air Fryer is placed upright on a hard-level surface before we start cooking.
Make sure the Air Fryer is not placed close to a wall or another appliance. Air fryers need at least 4 inches of free space around it.
Finally, if we find any damaged components, contact the manufacturer and get them replaced.
Keeping Your Air Fryer in Less Working Condition
If we properly clean, store, and maintain it, an Air Fryer can last for years without breaking down or giving you any problems. The most important things to remember are:
At first, we have to read the user's manual before setting up and cooking with our Air Fryer.
We have to always follow the manual for cooking food. We don't have to add large amounts of liquid or oil. It is prohibited to cook any food not recommended by the manufacturer, and always follow the recipe very carefully.
Every time clean the air fryer after use. All of the components should be washed thoroughly, without abrasive tools.
Before using the Air Fryer we have to make sure the cords, removable parts, and housing are all in fine condition.
Always store the air fryer in an upright, stable, and cool place.
Hot Air Fryers are very easy to use, clean, and maintain. We need just a quick scrub, a little care, and proper storage. Then they'll continue providing us with convenient, healthy meals for as long as we need them.
FAQ about Philips Air Fryer Reviews
Can we put aluminum foil in the air fryer?
Answer: Yes, we can use baking paper or aluminum foil paper in our Philips Air Fryer. But we should never cover the basket bottom completely. It causes an accident.
Can you put a glass bowl in an air fryer?
Answer: The dish or mold that are ovenproof and made of glass, ceramic, metal, or silicone can use an Air Fryer. But never place the baking dish directly in the pan because it eliminates the flow of air in the pan. Only the top of the food would be heated and always place the baking dish in the basket.
How long do we cook frozen fries in the air fryer?
Answer: It actually depends on the food. If a bag of frozen French fries takes time to cook in the oven at 450ºF for 18 minutes then, in the Air fryer it takes at 400ºF and starts checking them at 15 minutes, remembering to shake the basket once or twice during the cooking process to help the fries brown evenly.
Is Philips air fryer Celsius or Fahrenheit?
Answer: Philips air fryer temperature is Celsius.
Which air fryer is the best?
Here are the 7 best Air Fryer names, prices, and average ratings according to
Best Philips Air Fryer Reviews:
Verdicts
Now we know Air Fried food is healthier than Oil fried food. But still, fried foods are harmful to all. It is associated with many negative health effects including heart attack, high blood pressure, diabetes, and some types of cancer. So, eating fried foods on a regular basis is a too-bad habit. So, we have to avoid fried food as much as possible.
I hope you all found this article on Philips air fryer review. Now you can take decisions easily about whether you will buy an air fryer or not.