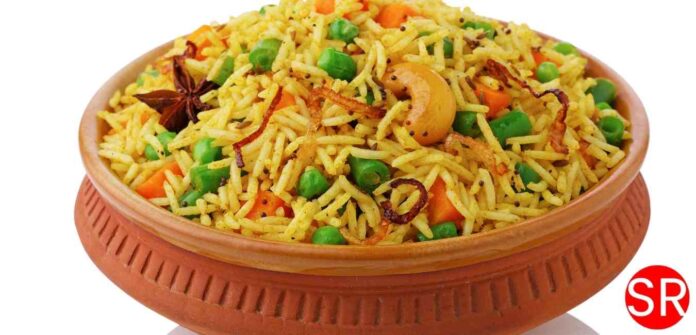 Last Updated on October 9, 2021 by Sultana Parvin
We all love biryani, be it vegetarian or non-vegetarian. But why do we always have to depend on restaurants and costly hotels to eat the best biryani? When you can make it all happen in your kitchen.  Scrolling on the internet, you will find delicious non-vegetarian biryani recipes like chicken biryani, mutton biryani, Hyderabadi biryani, Bombay Biryani, and so on. But you will hardly find vegetarian biryani recipes on the internet, which is unfair to the vegetarian audience.
Many vegetarian people love biryani, its flavor, and its taste. So, today for them, we have come up with a vegetarian korma biryani recipe which is easy to make and best in taste. 
Before jumping into the recipe, let's start with knowledge about the recipe of veg korma biryani. So, korma is basically a gravy or sauce which is primarily made in India and Central Asia. However, as it's originally a Mughlai dish, it is now made in different ways depending upon the regions in India. 
North and Central India make their korma base with yogurt, vegetable stock, spices, nuts, and onions specifically. Whereas, in South India, korma includes coconut, curd, seeds, rice, vegetables, etc.
Veg korma biryani is the perfect balance of rich spices, vegetables, great flavor, and aroma.
Also, spices don't mean here the intensity of chili; with spices, we intend cinnamon, bay leaf, cumin seeds, black peppers, cardamoms, and much more. These are the natural ingredients that make a biryani rich and aromatic.  
Now let's make it easier for you by directing you to an extra delicious and fabulous vegetable korma biryani which you have never tasted before. 
So, to start with, here are the items which you require in this recipe;
| | |
| --- | --- |
| Preparation time | 30 minutes |
| Cooking time | 1 hour |
| Total time | 1 hour 30 minutes |
| Servings | 8 |
 Ingredients For Vegetable Korma Biryani
Which Vegetables to use for Korma-
Vegetables are the healthiest and most nutritious food to eat. Vegetables in korma biryani play an essential role because it's not chicken or mutton biryani but veg biryani. So, you must choose the vegetables of your korma gravy wisely and consciously as it will directly affect your biryani taste.
However, people use vegetables as per their tastes, preferences, needs, or availability. Sometimes we think about using the vegetables available at home presently if we don't quickly access the market. Whereas other people who make korma biryani with a plan beforehand make sure to bring all suitable and recommended vegetables at home.
Mainly used vegetables are beans, carrots, green peas, and cauliflower. But some people also might use paneer, button mushrooms, baby corn, broccoli, zucchini, and so on.
Thus, there's no hard and fast rule for choosing vegetables for korma biryani. Instead, you can make your choice accordingly.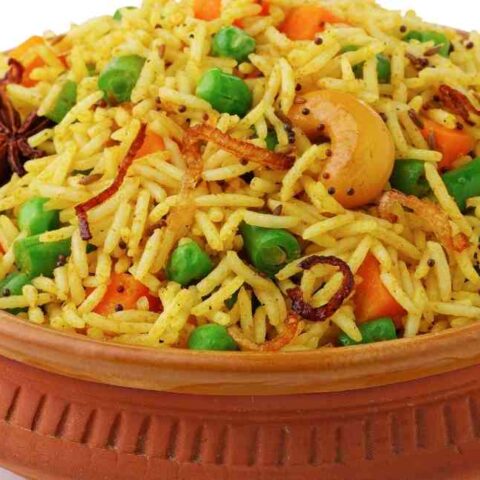 Vegetable Korma Biryani Recipe
Total Time:
1 hour
30 minutes
Ingredients
1 kg Rice 
3 tablespoons Ghee
5-6 Bay leaf
5-6 Cinnamon
5-6 Cardamoms
5-6 Cloves
1 cup Tomatoes, diced
1 cup Grated onions
1 tablespoon Ginger garlic paste
1 teaspoon Turmeric powder
1 teaspoon Coriander powder
1/2 teaspoon Chili powder
1/2 teaspoon Garam masala
4 cups Boiled vegetables (carrot, beans, green peas, potatoes)
2 cups Coconut milk
1 tin Fresh cream
Instructions
For biryani rice-

First, wash the rice 2-3 times from fresh water and keep it soaked in water for 15-20 minutes before making it.

Keep 4-5 saffron strands in 2 tbsp of water and stir. Now keep it aside for 10 minutes until it leaves the color.

Heat a non-stick pan, add 1 tbsp ghee, an essential ingredient in
biryani.

Now put some cumin seeds, bay leaves, cinnamon, cardamom, cloves, black peppers, and stir them well for 30 seconds to 1 minute until you can smell the spices sauteed.

Now you can add soaked rice, saffron water, and salt as per taste and add water according to the rice quantity. Cover the pan and keep it on low flame to cook for at least 13-15 minutes.

For korma gravy, take a pan, add 2 tbsp organic or regular ghee into it, add chopped onions, and saute them on medium to high flame for 3-4 minutes.

Once it turns brown, add 1 tbsp ginger garlic paste and mix it well with the onions.

Now add tomatoes and organic spices like turmeric powder, chili powder,
coriander powder, garam masala, salt according to taste, and now stir them
well. Keep on stirring for 2-3 minutes on low flame.

When you get the aroma of spices, you can add mixed boiled vegetables, coconut milk, and fresh cream in the pan, mix them well, and stir it occasionally.  

Preparing the vegetarian korma biryani-

Now that both your rice and korma gravy are ready, take a bowl to add
half of the rice.

Pour some korma gravy over the portion and spread it evenly on rice.

Now again, put the other half of the rice portion and again pour sauce over the rice.

Cover the bowl and bake it in a preheated oven at 180c for 15 minutes.

Now you can enjoy this shahi vegetable korma biryani.  
Recommended Products
As an Amazon Associate and member of other affiliate programs, I earn from qualifying purchases.
For biryani rice-
Let's start with the korma gravy-
Preparing the vegetarian korma biryani-