Last Updated on September 19, 2021 by Sultana Parvin
Are you thinking to buy a new Fryer? Then, you are probably caught up in between the thought of whether to buy Deep Fryer vs Air Fryer. Both these devices achieve the same task which is frying up your food and making it crunchy from the outside.
However, both the devices have their advantages and disadvantages that set them apart from each other. Before you decide on whether to buy an Air Fryer or a Deep Fryer, better give this article a read as I accumulate all the information that you might need. Together with that I also have two products being reviewed that will help you get more insight if you plan to buy any of those. I frequently use these two products. So I think these reviews will help you to take the perfect decision.
What is a Deep Fryer?
Deep Fryers are kitchen appliances that allow you to cook food by dipping it into hot boiling oil completely. Food is kept in the steel basket which is then lowered into the hot oil, frying the food and giving it a crunchy texture. Even though it was made for and used only in commercial kitchens, Deep Fryers have found their way into domestic Kitchens as well. Deep frying appliances would have automatic timers, motors that move the basket, special filtration systems that allow you to reuse the oil, smart temperature control that maintains the temperature of the oil and makes sure it stays hot enough, and an energy-saving feature that can help you save money on electricity bills. 
What is an Air Fryer?
Air Fryers are different from Deep Fryers. They do imitate the crunch factor given to food that deep fryers do. Air Fryers operate the same way as convection ovens. The difference between baking and ovens is the introduction of hot air and little to no oil that helps fry the food. The top chamber of an air fryer has a heating box and a fan. The fan helps to blow the heat directly to the uncooked food, making it crispy. Adding a bit of oil on top of the food makes it crispier and helps mimic an end product from a Deep Fryer. 
Differences between Deep Fryer and Air Fryer
Even though both the fryers sound the same in terms of the product, they both give us back, which is a nicely crisped exterior on our food. There are a lot of differences and factors that can influence your decision to choose from the two.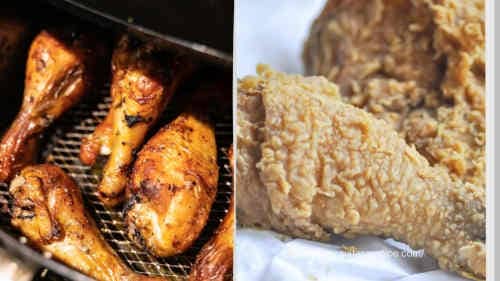 The difference in the type of Foods cooked by both the Fryers:
So far we learned everything about how both the Fryers works and what features and systems they have is different. Now we shall discuss how the food tastes like after being cooked in the Fryers. Before buying a Fryer, consumers tend to go to Google and search up keywords like "Air Fryer vs Deep fryer french fries", "Deep fryer vs air fryer chicken", or "Air fryer vs deep fryer for fish". A very common answer that you would get is food cooked in both the Fryers taste the same, the only difference you can find is that food cooked with Deep Fryers would have that Fried tasted and would be covered in oil giving it a heavier taste compared to Air Fryers. To cut things short, food cooked in both the fryers would taste the same from the inside but it would be the outside that would be different.
What are the disadvantages of Air Fryers?
Air Fryers have one big disadvantage that is the capacity of their baskets. It is very small compared to Deep Fryers. Also, Air Fryers tend to be more expensive compared to Deep Fryers because of the advanced tech they use.
What are the disadvantages of Deep Fryers?
One massive downside of Deep Fryers is getting rid of the waste oil after cooking is done. With that cleaning, the fryer is an issue as well. Another downside would be a self hazard, as the Fryer can get hot and cause burns to the user. Either the hot exterior or the boiling oil inside. 
The best air fryer
If you have decided as to whether you want to buy an Air Fryer or a Deep Fryer, we have selected the best of both appliances, making it easier for you to buy.
NUWAVE BRIO 6-Quart Digital Air Fryer
If you are considering buying an Air Fryer, and have checked online reviews then you probably would have met the Nuwave Brio before. The Nuwave Brio is termed as one of the Best Air Fryers in the market. Coming with a 6 quarts capacity and temperature control that allows you to cook the food in temperatures of 100 ~ 400 degrees of Fahrenheit and comes with loads of presents and manual options that will allow you to cook a vast variety of food items. However below we have listed down 4 Pros and 2 cons that these Air Fryers have making it easier for you to decide.
Pros:
It is very user-friendly, and the easy-to-use interface makes cooking for newbies as simple as it can get. 
Being 6 quarts in size allows you to cook more food as you have a larger capacity. This makes the Nuwave Brio a great price as for the same price other companies only offer 4-quart versions.
The Air Fryer comes with different types of baskets allowing you to try out different styles of cooking. 
A  vast range of temperature control settings will allow you to cook food that requires a high intensity of heat. 
Cons:
Nuwave Brio has been said to be louder than other Air Fryers in the market. This is mainly due to the 6 quart of capacity it provides.
The wire basket that comes with the Nuwave brio can be very hard to clean after cooking food in it. 
The best deep fryer
I used 4 types of deep fry. But recently I have checked T-fal Deep fryer has many featured and I decided next time I will buy this.
T-fal Deep Fryer with basket
The T-fal deep fryer comes with a 3.5l oil capacity chamber and can hold food up to 2.65 pounds.  The fryer's parts can be detached making it easy to clean using a dishwasher as all the parts including the basket is 100% Dishwasher proof. The whole fryer is made with stainless steel making it rustproof and very easy to clean. The thermostat control on the Fryer makes it very easy to manipulate the intensity of the heat you would need and also is very easy to use for cooks who have never used a Deep Fryer before.
Pros:
One of the most unique features is the detachable parts, which make the T-fal Deep Fryer very easy to clean after using it. All the parts being Dishwasher proof means you can just detach the parts and shove them inside a dishwasher. 
The good quality stainless steel used to make the parts and the exterior will help the T-fal Deep Fryer to last for a very long time.
The temperature regulator on the T-fal Deep Fryer is very precise and will allow the user to accurately select the desired temperature.
Cons:
The basket has a very small capacity compared to other Deep Fryers in the market and this can be seen as its only and biggest con. 
FAQ:
Does an air fryer food taste like a deep fryer?
Yes, Air Fried food tastes very similar to Deep Fried food. Both of them have that nice crunchy exterior that you would get from frying your food on a pan. The only difference is that the exterior of the food that has been deep-fried would generally be coated with more oil and Air Fried food would have little to no oil affecting its taste. 
Can you use an air fryer like a deep fryer?
Air Fryers can be used just like Deep Fryers. They can help cook food by frying it up. The only difference being is Deep Fryers use a lot of oil in their cooking method while Air Fryers use little to no oil. If this factor could affect your cooking then it is better to stick to Deep Fryers.  
Do air fryers smell like deep fat fryers?
Yes, food cooked in Air Fryers would smell the same as Deep Fat Fryers. Both fryers are used for the same goal that is to fry up the food for the user. However, if no oil is used when cooking with an Air Fryer might affect the smell of the food as the food might not have the oily aroma to it that Deep Fat Fryers can give it. 
What can you not cook in an air fryer?
Fried foods that require a wet batter can make a mess inside Air Fryers just like cheese. Broccoli can dry up and other Green Veggies have been said to be soggy when they come out of the Fryers. A whole chicken would be too big to fit inside an Air Fryer and Chicken wings being very small, dehydrate to hard chunks of meat and bones. 
The Choice is Yours!
By now we hope you have realized that Air Fryers and Deep Fryers have very similar functions but there are end-product goals that cannot be achieved by Air Fryers and similarly some that cannot be achieved by Deep Fryers. So it is up to you, the buyer, to decide which appliance you would need on your kitchen counter. We will publish the deep fryer review as a practical user. Now you can check the Philips Air Fryer Review.